March 2023
A $100,000 donation to the Pointe-à-Callière Foundation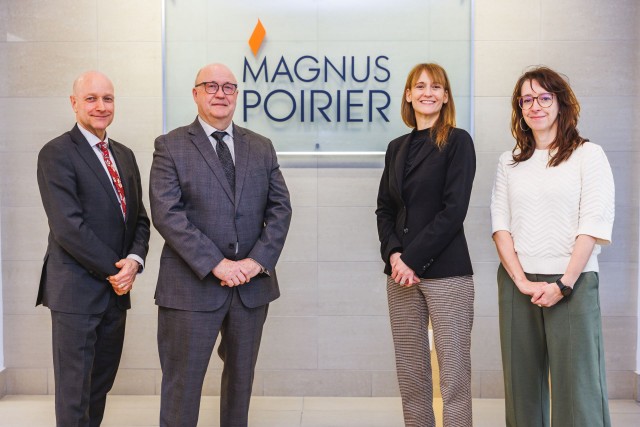 Pierre Savard, Vice-President Finance and Jacques Poirier, President and Chief Executive Officer, Magnus Poirier; Anne Élisabeth Thibault, Executive Director, Pointe-à-Callière; and Chantal Vignola, Director, Pointe-à-Callière Foundation.
Photo: Patrick Desrochers
---
PRESS RELEASE
A $100,000 donation to the Pointe-à-Callière Foundation
For its 100th anniversary, Magnus Poirier is supporting the Museum's mission
Montréal, March 15, 2023 – The Pointe-à-Callière Foundation is delighted to receive a major $100,000 contribution from funeral services firm Magnus Poirier, which is marking its 100th anniversary in 2023.
For the next five years, this new partnership will unite the two entities, both of which are deeply rooted in Montréal history. As the birthplace of Montréal, Pointe-à-Callière was founded with a mission to raise awareness and foster an appreciation of Montréal, past and present. As for Magnus Poirier, it was on March 15, 1923 that its namesake founder, then a young entrepreneur, joined his wife and business partner, Ernestine Guénette, in opening their first funeral complex on Saint-Dominique Street, in Montréal. Since then, the company has made a series of acquisitions, innovations, and modernizations that have seen it develop over five generations to become one of the largest funeral services companies in Montréal.
"When you consider that the Museum has been a showcase for Montréal's very first cemetery, dating to 1642, Magnus Poirier's support for our mission is in keeping with efforts to preserve and highlight our historical and archaeological heritage. Magnus Poirier's contribution provides us with real encouragement to continue our work of discovering the past, giving us the opportunity to examine our roots with a view to sharing this knowledge with the greatest possible number of people," says the Museum's Executive Director, Anne Élisabeth Thibault.
"Magnus Poirier is pleased to support the mission and development of Pointe-à-Callière. We enter this partnership with pride, delighted to be making this philanthropic gesture, as it links our name to a significant site in Montréal history. We also both share a profound desire to be of service to local families," adds Magnus Poirier's President and CEO, Jacques Poirier, who notes that the company is now run by the founder's grandchildren, great-grandchildren, and great-great-grandchildren.
About Magnus Poirier
Magnus Poirier has been providing funeral pre-arrangement and arrangement services since 1923. The family business, which includes 6 funeral homes and complexes in the Greater Montréal area, offers a complete and continuously upgraded range of funeral products and services to meet the constantly evolving needs of various cultural and religious traditions.
About the Pointe-à-Callière Foundation
Created in 1993, the Foundation works to support the development of Montréal's archaeology and history museum. Since it was founded, it has contributed to all of Pointe-à-Callière's major projects, including the preservation of the archaeological remains of Montréal's birthplace, the renewal of multimedia shows, the presentation of large-scale international exhibitions, the creation of the archaeological field school, the renovation of the Youville Pumping Station, the acquisition and renovation of the Mariners' House – National Bank Building, and the showcasing of Montréal's first collector sewer and the Fort Ville-Marie – Québecor Building.
-30-
Source:
Chantal Vignola, Director
Pointe-à-Callière Foundation
[email protected]
Pierre Savard, Vice-President, Finance
Magnus Poirier
[email protected]