Souvenir-Display
October 16th, 2018 — August 31st, 2019
The Streets of Montréal through Michel Barcelo's eyes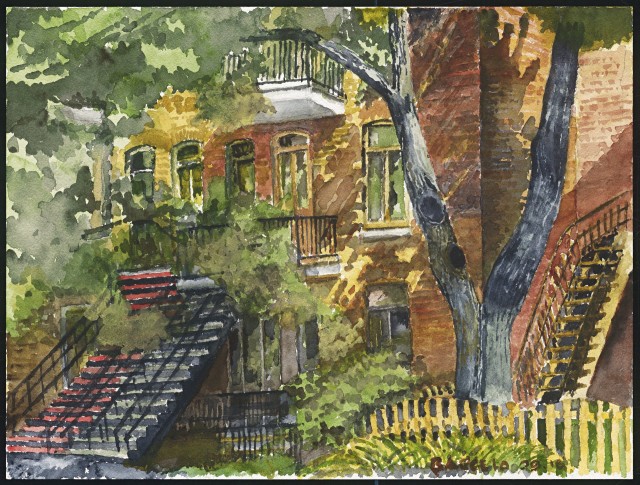 Depicting a typical row of triplexes with outside staircases and wrought iron balconies, this eastward view from Rue Beaubien is bathed in shimmering light created by the play of shadows on the volumes.
Rue Boyer
Michel Barcelo
Watercolour
2009
Pointe-à-Callière Collection
Until September 2, 2019
Display at the mezzanine 1
Main pavilion – Pointe-à-Callière
Since 2017, 132 watercolours created by architect, urban planner, artist and professor Michel Barcelo (1938-2013) are part of Pointe-à-Callière's collection, thanks to the donation by the artist's wife. Pointe-à-Callière's souvenir diplay exhibits 11 of these watercolors depicting a personal perspective on the streets of Montréal.
Far from official portraits of the city depicting the cross on Mount Royal, Jacques-Cartier Bridge, Saint Joseph's Oratory or the downtown skyscrapers, the watercolours of Barcelo invite visitors to look beyond the everyday surroundings and go on an impressionist stroll through the streets of Montréal. Revisit the streets of Montréal through this singular gaze. Wander through them, one step at a time, from Lachine to Pointe-aux-Trembles, from Boulevard Gouin to Old Montréal.
Architect, urban planner and honorary professor in the Faculty of Environmental Design and Institut d'urbanisme at Université de Montréal, Michel Barcelo was an emeritus member of the Ordre des urbanistes du Québec. Throughout his professional life, Barcelo sketched cities and landscapes. Watercolour—a technique he learned from his uncle, painter Marc-Aurèle Fortin—came naturally to him to best express the urban experience of the passerby.
Rues de Montréal book is also available in the museum shop (French version only).