Souvenir-Display
September 10th, 2019 — March 22nd, 2020
Montréal's Auxiliary Firefighters – 75 years of support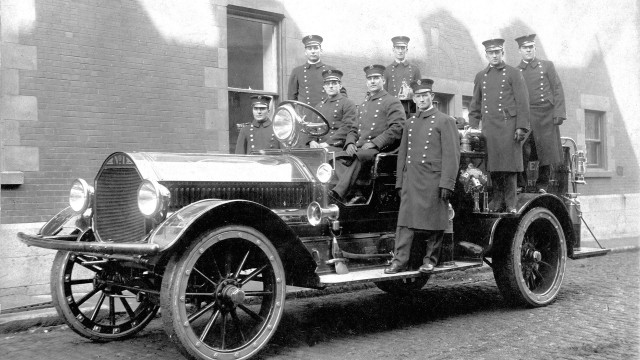 Photo from the Montréal Firefighters' Museum Collection
September 10, 2019 to March 22, 2020
Display case on the Mezzanine 1 level
Main Building – Pointe-à-Callière
While firefighters risk their lives fighting flames, another group is hard at work: auxiliary firefighters. For 75 years, they have lent their assistance to the fire department on the ground during emergencies, offering support and comfort to firefighters and victims of fire by distributing blankets, hot beverages, refreshments, and dry clothes. They also provide first aid to people or firefighters who are injured or affected by smoke. To raise awareness of their history and the important role they play in keeping the city safe, Pointe-à-Callière has dedicated a display case to Montréal's auxiliary firefighters.
Often on the front lines during major fires, the members of Montréal's auxiliary firefighters have been able to collect, restore, and preserve photographs and objects relating to the city's fire department over the years.
Part of their collection is displayed to visitors at Pointe-à-Callière to raise awareness of the history of fire management in Montréal. Items on display include helmets from various eras, extinguishers, hoses, and other pieces of equipment that allow Montréal's firefighters and auxiliary firefighters to help save lives.
The Museum offers a 20% discount from February 22 to March 22, 2020 to all Montréal firefighters and auxiliary firefighters for the last month of the display case. Visit our promotions for more details.