Lecture Series
March 16th, 2019
Les samedis de l'histoire - Hochelaga-Maisonneuve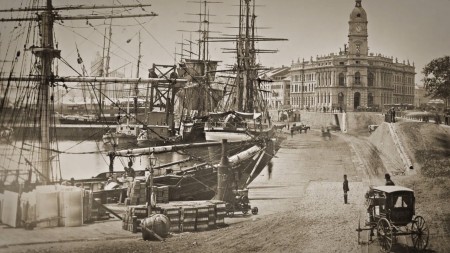 Le Hublot - Port de Montréal
Lecture Series presented by the Société historique de Montréal
Saturday, March 16, 2019, at 2 p.m.
Multipurpose Room, 350 Place Royale, Old Montréal, Quebec
H2Y 3Y5
Free admission, limited places
In French only
The Société historique de Montréal lecture series is presented thanks to a partnership with Pointe-à-Callière, Montréal Archaeology and History Complex.
Description and Lecture Series in French only:
Présentée par Réjean Charbonneau, diplômé en animation culturelle et archiviste ainsi que directeur de l'Atelier d'histoire Hochelaga-Maisonneuve, cette conférence s'intitule Hochelaga-Maisonneuve en trois temps : de 1870 à 1990.
De villes ouvrières à Cité modèle, Hochelaga et Maisonneuve se sont développés au rythme de l'industrialisation. Annexés à Montréal en 1883 pour Hochelaga et 1918 pour Maisonneuve, ces quartiers ouvriers connaîtront le plein emploi des années folles, le chômage de la crise des années 1930 et le dernier regain industriel de la période de la Seconde Guerre jusqu'à la désindustrialisation qui sévira jusque dans les années 1990.
La revitalisation d'Hochelaga-Maisonneuve se fera par l'émergence de la force communautaire des citoyens et citoyennes du quartier qui en ont fait un des terreaux de l'économie sociale au Québec.