Virtual Lecture
May 7th, 2021
Lecture – The History of Montréal's Black Porters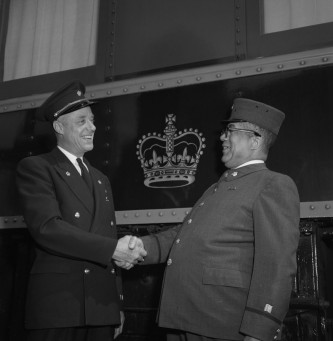 Photo : Porter Percy Corbin, right, and steward Wilfred Notley, 1958 Source: Bibliothèque et Archives Canada/Fonds de l'Office national du film/e011177028
As part of the exhibition A Railroad to Dreams, Pointe-à-Callière is presenting a lecture on Montréal's Black porters, by historian Dorothy Williams.
At one time, porters attended to passengers aboard sleeping cars, meeting the riders' various needs throughout their train trip. In the early 20th century, the vast majority of sleeping car porters were Black men, as the position was one of the few jobs available to them in Canada.
Montréal's Black porters made a significant contribution to the economic development of the major railway companies, and to the development of certain Montréal neighbourhoods. Join historian Dorothy Williams in an exploration of their history, their occupation, and their impact on the railway sector and the city.
This lecture will be in English with French subtitles.
As an exception, this lecture will not be presented live, though our team will be available to answer your questions in the comments.