February, 2022
Join the circus… during School Break at Pointe-à-Callière!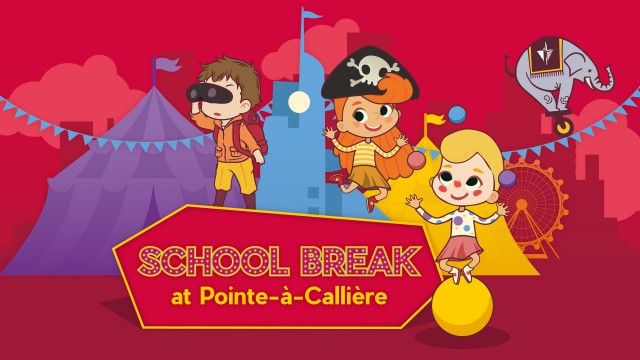 ---
Press release
Several free outdoor activities await young and old alike in Old Montréal..
Montréal, February 7, 2022 – For the school break, from February 26 to March 5, 2022, Pointe-à-Callière has several outdoor activities in store for guaranteed fun with family or friends—free of charge.
Inspired by the It's Circus Time! exhibition, which closes on March 6, 2022, performances and workshops will prolong the immersion into the fascinating world of the circus, beyond the walls of the Museum. Guided architectural tours and the creation of a collective work of art in collaboration with Accueil Bonneau are also on the program. Wonderful opportunities to come warm your heart and soul in Old Montréal!
Please note that to enter the activity zone, a vaccine passport is required for individuals of ages 13 and up. Masking is recommended.
IT'S CIRCUS TIME, INDOORS AND OUT...
Circus magic takes to the streets
On an ongoing basis from 11 am to 4 pm, all week long during school break, the public can expect spontaneous performances, music, and clowns, along with juggling and balancing workshops. Joining circus artists from the Flip Fabrique and Moulin à vent troupes, young people and their parents can test their skills and learn a few basic numbers to practice as an introduction to the circus arts.
Also, the Desjardins kaleidoscope set up in the street will give everyone a chance to take funny snapshots using its set of mirrors. Fun for the whole family and a great souvenir of your circus-themed day at Pointe-à-Callière!
Last chance to see It's Circus Time!
On until March 6, the temporary exhibition* It's Circus Time!* is an invitation to explore the always surprising world of the circus arts, from the earliest European and American troupes to today's over-the-top international shows. In a fun and colourful ambience, the exhibition introduces visitors to iconic circus figures and to local artists and troupes that have put Québec in the international spotlight!
Online reservation required
En savoir plus
REDISCOVER THE MUSEUM AND ITS NEIGHBOURHOOD
Guided outdoor tours of the architecture of Pointe-à-Callière and Old Montréal
On February 26 and March 2, 4, and 5, at 1 pm (in French) and 2 pm (in English), Pointe-à-Callière is inviting the public to explore Old Montréal and the Museum… from another angle! Through a guided tour of the neighbourhood's architecture, and that of the Montréal Archaeology and History Complex, visitors will learn more about the challenges that architects, archaeologists, and museologists faced when constructing Pointe-à-Callière over archaeological remains.
Free, upon reservation. Space is limited.
Residents of Old Montréal visit the Museum at a discount
Pointe-à-Callière is inviting its neighbours to come enjoy the exhibitions in their Museum at a discount during the school break. From Monday, February 28 to Thursday, March 3 inclusively, residents of Old Montréal can take advantage of a 25% discount on the price of admission to the Museum, upon presentation of valid identification and a proof of address.
A collective work in front of Pointe-à-Callière, in collaboration with Accueil Bonneau
Pointe-à-Callière has joined forces with Accueil Bonneau, which assists people experiencing homelessness, to offer the organization's users a moment of creativity. Joined by an artist, Accueil Bonneau users have created a collective work of art: a mural on which they have been invited to express themselves artistically by writing short messages of hope and sharing their vision of the neighbourhood.
With the mural installed in front of the Museum during school break, Pointe-à-Callière is now inviting members of the public to in turn come add their own brief messages of hope. Once completed, the mural will be given to Accueil Bonneau. A wonderful way to build ties in the Old Montréal community!
Thank you to our partners
School Break programming is made possible thanks to the support of Québecor, the SDC du Vieux-Montréal, and the Borough of Ville-Marie.
About Pointe-à-Callière, Montréal's Archaeology and History Complex
Pointe-à-Callière, the birthplace of Montréal, is the city's largest history museum. Rising above a concentrated number of historic and archaeological sites of national significance, the museum's mission is to raise awareness and foster an appreciation of Montréal history, and to forge bonds with regional, national, and international networks.
Pointe-à-Callière is a proud partner of Ville de Montréal.
-30-
To request images and visuals, please contact us.
Source:
Nora Charifi
Communications Project Manager, Pointe-à-Callière
Tel: 514 872-2687 / Cell: 514 829-0955
[email protected]