April 2023
Egypt. Three Millennia on the Nile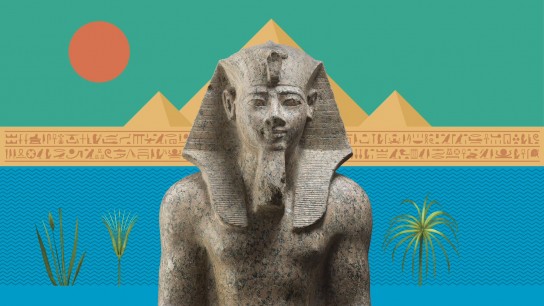 Download press kit
Download images of the exhibition here
Please make sure to put the photo credit : © Caroline Thibault / Pointe-à-Callière
Press Release
For immediate release
April 20 to October 15, 2023
A captivating and immersive exhibition in a setting both elegant and grandiose!
Montréal, April 19, 2023 – Opening tomorrow and running until October 15, 2023, Pointe-à-Callière, Montréal's Archaeology and History Complex, presents Egypt. Three Millennia on the Nile. Covering 3,000 years of history on the shores of the Nile, from the civilization's very beginning to the Roman conquest, the exhibition features 320 authentic objects—in a North American exclusive—from the collection of the Museo Egizio in Turin (Italy), one of the largest collections in the world. Visitors will learn that Egyptian civilization has not yet revealed all its mysteries… and still has many surprises in store!
"We are honoured and proud to share this historical journey with Montréal this summer, showcasing these exceptional masterpieces of the heritage of humankind. The exhibition Egypt. Three Millennia on the Nile paints an up-to-date portrait of ancient Egypt, putting a human face on this age-old society. This will also be an opportunity to reach out and get closer to Montrealers from the Egyptian community."
– Anne Élisabeth Thibault, Executive Director, Pointe-à-Callière
Life in Ancient Egypt
The history of ancient Egypt is not simply concerned with that of palaces and pharaohs but also focuses on the men and women who lived, loved, enjoyed themselves, worked, and died with the hope of a life beyond this one. A refined rural people, with good-natured customs and strong traditions, and a monogamous extended family at the heart of it all.
Learn about a few distinctive characteristics of this society, in which a child's entry into the world was considered a gift from the gods… in which respect for one's parents was a fundamental value… and in which women enjoyed greater freedom than most of their counterparts in the rest of the ancient world.
People, at the Heart of the Exhibition
How did the inhabitants of ancient Egypt go about their daily lives? What was their view of the world? What made them happy? Egypt. Three Millennia on the Nile brings ancient Egyptian artisans, farmers, fishers, scribes, priests, and pharaohs back to life, shining a spotlight on how Egyptian society and power were organized, as well as on the key role that common people played in the emergence and perseverance of this remarkable civilization. Tools, everyday objects, and jewelry will be displayed alongside sculptures and monumental statues, sarcophagi, stelae, and mummies throughout the immersive exhibition layout.
Animals and Divinities
The Egyptians had a unique relationship with animals, which were omnipresent in their daily lives and religious beliefs. Practiced since the Predynastic Period, animal worship was one of the main characteristics of Egyptian religion. Animals, associated with divinities based on their physical or behavioural attributes, were not venerated for themselves. Rather, they were considered manifestations of the gods, acting as intermediaries between gods and humans.
This worship and the zoomorphic representation of gods distinguish the Egyptians from all other peoples, notably their Greek, Persian, and Roman conquerors.
Light-hearted
The pharaoh's primary mission was to ensure justice, harmony, order, and balance. This concept was at the centre of the Egyptians' understanding of the universe. As the foundation of social cohesion, the pharaoh encouraged people to live in peace and to contribute to the collective well-being. Egyptians hoped their hearts would be lighter than a feather when being judged by Osiris, after death. Their goal was to create a life worth living... for eternity.
Publication: Egypt. Three Millennia on the Nile
This lavishly illustrated, 64-page book-magazine will extend the visitor's immersion into the heart of ancient Egyptian society! It features magnificent objects from the Museo Egizio, in addition to several iconographic representations to accompany the text by eminent Egyptologists. The publication takes an accessible approach to the exhibition's major themes.
Complementary Activities
Lectures
To coincide with the temporary exhibition Egypt. Three Millennia on the Nile, Pointe-à-Callière is holding a series of three lectures focused on various aspects and subjects addressed in the exhibition and accompanying publication.
April: An immersion into Egyptian society at the time of the pharaohs, with Perrine Poiron, Doctor of Egyptology and History.
May: Explore every step in Egyptian funeral practices, with Doctor of Egyptology Cloé Caron.
October: Enter the Egyptian imagination with professor Jean Revez who will discuss the role that animals played.
Cultural Activities: Family Sundays
Every Sunday this summer, from July 9 to August 20, Pointe-à-Callière will be holding free, participatory activities complementing our temporary exhibition Egypt. Three Millennia on the Nile. From 1 pm to 4 pm, families are invited to take part in a range of activities during which they will explore, discover, and experience various aspects of ancient Egyptian history and culture. It's a perfect opportunity to learn about hieroglyphics, hear Egyptian music and songs, discover the myths and legends of ancient Egypt, try out Egyptian inventions, and explore the relationships between animals, gods, and ancient Egyptians. Not to be missed!
Acknowledgements
Egypt. Three Millennia on the Nile is an exhibition produced by Pointe-à-Callière, Montréal's Archaeology and History Complex, in collaboration with the Museo Egizio in Turin, Italy.
It is presented by Desjardins, through a partnership with Air Canada Cargo, Tourisme Montréal, Hôtel InterContinental Montréal, and La Presse. The Museum sincerely thanks its lenders, sponsors, and partners.
About Pointe-à-Callière, Montréal's Archaeology and History Complex
Inaugurated in 1992, on the city's 350th anniversary, Pointe-à-Callière is today the largest archaeology museum in Canada and the busiest history museum in Montréal. Rising above a concentrated number of historic and archaeological sites of national significance—including the birthplace of Montréal—, the Museum has a mission to preserve its collections and to further knowledge, while showcasing and fostering an appreciation for Montréal's archaeological and historical heritage. This mission is carried out through various activities focused on conservation, research, presentation, education, and inclusion, along with community initiatives benefiting both Montrealers and visitors to the city.
Pointe-à-Callière, proud partner of the City of Montréal.
– 30 –
Download photos of the exhibition:
SOURCE: POINTE-À-CALLIÈRE, MONTRÉAL ARCHAEOLOGY AND HISTORY COMPLEX
Katia Bouchard, Communications and Marketing Director
T: 514 872-9124 / [email protected]
MEDIA CONTACTS:
Geneviève Harvey / 514-927-1525 / [email protected]
Stéphanie Culakowa / 514-245-1417 / [email protected]