New Cultural Season - Fall 2023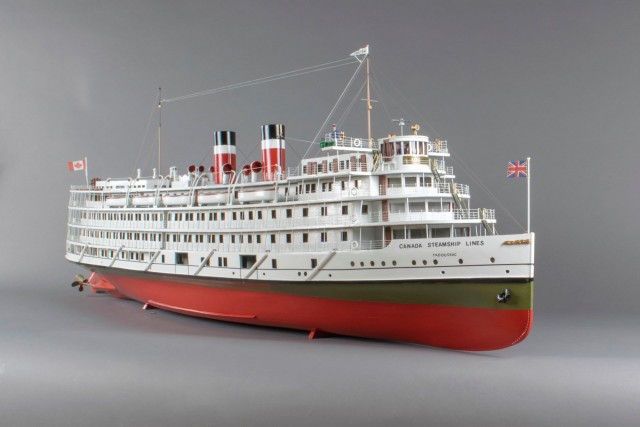 Press release
For immediate release
Pointe-à-Callière is presenting an exhibition on the St. Lawrence River in fall-winter 2023-2024
Montréal, August 23, 2023 — Pointe-à-Callière, Montréal's archaeology and history complex, will shine a spotlight on the majestic St. Lawrence River in its upcoming exhibition, The St. Lawrence River, Echoes from the Shores, which opens on November 30, 2023. It will follow the hit exhibition Egypt. Three Millennia on the Nile, which closes on October 15—now is your last chance to see it!
COMING IN THE FALL
THE ST. LAWRENCE RIVER, ECHOES FROM THE SHORES
November 30, 2023 to March 3, 2024
Mariners' House – National Bank Building
Yours to explore starting November 30, the exhibition The St. Lawrence River, Echoes from the Shores will take a new and captivating look at the third largest waterway in North America! As the main axis of communication between diverse riverside communities, the St. Lawrence welcomes millions of people along its watershed. Staggeringly large and perpetually changing, the river is ages old, with a history involving a variety of complex ecosystems, presenting multiple challenges to those seeking to cross it, navigate it, and protect it. The majestic St. Lawrence is a source of inspiration for many artists and has filled our collective memory with its wonderful history.
Looking back on the river's past, the exhibition will showcase its invaluable contributions to Québec's heritage. Transportation, naval construction, shipwrecks, navigation, environmental issues, wars, fishing, leisure activities, and holidays… the exhibition will examine the river from many angles. Among the over 300 objects on display, visitors will get to see a striking figurehead, model ships, a diving suit, naval construction tools, objects from shipwrecks and battles fought on the river, clothing, accessories, and commemorative objects, thanks to—among others—an exceptional loan from the Musée maritime du Québec in L'Islet, as well as other important lenders, such as the Musée de la civilisation in Québec City.
Displayed along a moving sensory journey through the exhibition, these objects will be featured alongside artwork, archival images, first-hand accounts, interviews, and documentary excerpts, as well as textures, scents, sounds, and large-scale projections. An exhibition to be seen, heard, and smelled—to fully appreciate the river's beauty and incomparable majesty. An invaluable natural treasure that must be preserved!
More information to come.
STILL ON DISPLAY
Presented until October 15, the exhibition Egypt. Three Millennia on the Nile has proven to be a resounding success! This large-scale exhibition on Ancient Egypt—a North American exclusive—immerses visitors in the daily, social, and religious life of this age-old civilization through over 300 authentic objects on display.
Continuing until October 9 in Old Fire Station No. 1, Montréal Capital City takes the public back to 1849, when the city was the capital of the province of Canada… while right outside, on Place D'Youville West, the outdoor exhibition A Parliament Under Your Feet examines this little-known moment in history by exploring key zones of the archaeological site of St. Anne's Market and the Parliament of the Province of Canada.
Lastly, the exhibition Favourites! Our Collections on Display explores multiple facets of Montréal through 400 "favourite" objects from the Museum's collections.
BECOME A MEMBER!
This year, the Pointe-à-Callière Members program is celebrating its 30th anniversary!
Becoming a Member is the ideal way to take advantage of the Museum's featured activities and exhibitions. And here's another great reason to join the program: until December 31, 2023, memberships are available at the affordable rates of just $30 per person or $60 per family.
ABOUT POINTE-À-CALLIÈRE, MONTRÉAL'S ARCHAEOLOGY AND HISTORY COMPLEX
Inaugurated in 1992, on the city's 350th anniversary, Pointe-à-Callière is today the largest archaeology museum in Canada and the busiest history museum in Montréal. Rising above a concentrated number of historic and archaeological sites of national significance—including the birthplace of Montréal—, the Museum has a mission to preserve its collections and to further knowledge, while showcasing and fostering an appreciation for Montréal's archaeological and historical heritage. This mission is carried out through various activities focused on conservation, research, presentation, education, and inclusion, along with community initiatives benefiting both Montrealers and visitors to the city.
Pointe-à-Callière, proud partner of the City of Montréal.
— 30 —
SOURCE: POINTE-À-CALLIÈRE, MONTRÉAL'S ARCHAEOLOGY AND HISTORY COMPLEX
MEDIA INFORMATION:
Katia Bouchard, Communications and Marketing Director
T: 514 872-9124 / [email protected]