December, 2022
The magic of the holidays at Pointe-à-Callière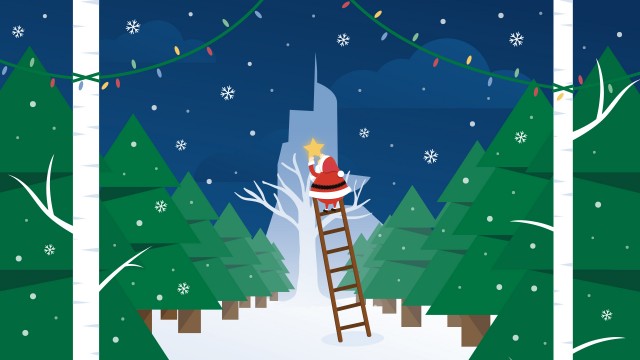 ---
Press release
THE MAGIC OF THE HOLIDAYS AT POINTE-À-CALLIÈRE
A trove of family activities at the Museum from November 25 to January 8
Montréal, November 4, 2022 – Pointe-à-Callière, Montréal's Archaeology and History Complex, will be infusing magic throughout the entire holiday season with enchanting family activities, a cozy outdoor winter rest area, and captivating exhibitions.
The holidays at Place Royale: An inviting relaxation area
Starting November 25 and throughout the holidays, everyone is invited to stop by Place Royale in the heart of Old Montréal to take in our splendid winter-sport-themed Christmas decor. This relaxation area with benches and light-wrapped trees will immediately put you in the holiday spirit! Open to everyone.
Free admission. November 25 to January 8, 350 Place Royale, Old Montréal.
Who is the real Santa Claus?
A large igloo installed at Place Royale will host four characters for a classic winter performance of Who is the real Santa Claus? Befana, Melchior, Pascual – a newcomer from Ecuador – and, of course, Santa himself will recount the legend of Christmas from their part of the world. This is an amazing opportunity for children to experience different countries through the eyes of friendly characters. A holiday have-to-see!
Free activity. December 26 to 30, 11 a.m. to 4 p.m., Place Royale, Old Montréal.
Creative workshops inspired by four continents
Pointe-à-Callière is running a series of creative workshops for the new temporary exhibition Headdresses from around the World, The Antoine de Galbert Collection to showcase the various art forms and production techniques used in headdress design. This is a great way to discover the skills and creativity of peoples from Asia, South America, Africa and Oceania. Watch your tiny tots get up to big crafts!
*Activity included with Museum admission. Ages 6 and up.
December 26 to 30 and January 3 to 6, 1 p.m. to 4 p.m.
Mariners' House Lobby – National Bank Pavilion *
Exhibitions to discover the world and have some family fun!
Headdresses from around the World, The Antoine de Galbert Collection. Pointe-à-Callière's new temporary exhibition invites you on a fabulous journey to discover 300 headdresses and head coverings from Africa, Asia, Oceania, and the Americas. A true window onto the diversity of world cultures, the exhibition honours headdresses in all their abundant, colourful and surprising forms! An activity booklet is also available for families. A round-the-world excursion! More information
Come aboard! Pirates or Privateers? The popular exhibition Come aboard! Pirates or Privateers? offers a highly entertaining interactive experience for 5- to 12-year-old adventurers seeking to put their minds and bodies to the test, get their sea legs, and learn if they've got what it takes to be a privateer! Completely revamped and improved, this family-friendly exhibition lets young people enter the world of ship's captain Pierre Le Moyne d'Iberville, Canada's most renowned privateer. Through interactive games in an immersive atmosphere, children will experience life on a ship, in often imaginative ways! Welcome aboard! More information
Favourites! Our Collections on Display. For its 30th anniversary, Pointe-à-Callière is celebrating Montréal life with an exhibition of 400 "favourite" objects from the thousands in its reserves. Presented in a theatrical set design, the exhibition traces the history of Montréal, one object at a time, through furniture, clothing, jewelry, toys, tools, books, maps, posters, and iconography brought out of the Museum's store houses. Fall under the spell of this unique city... and an exhibition that will delight the whole family! More information
Family memberships: 30th-anniversary special
IYou still have time to take advantage of the special promotion for family memberships at $60 for up to five people (two adults and up to three children under 17). Individual memberships cost $30. Become a Member and get unlimited access to the Museum and enjoy many other benefits for one year. More information
Thanks to our partners
Our holiday program has been made possible thanks to the support of the SDC Vieux-Montréal and Quebecor, a major partner in Pointe-à-Callière's family activities.
About Pointe-à-Callière, Montréal Archaeology and History Complex Pointe-à-Callière, birthplace of Montréal, is the largest archaeological museum in Canada and the most popular history museum in Montréal. Rising above a number of national historic and archaeologic sites, the Museum's mission is to raise awareness and foster an appreciation of the city's history and to forge bonds with regional, national and international networks.
Pointe-à-Callière, proud partner of Ville de Montréal.
-30-
Please contact us to request any visuals.
Source:
Nora Charifi
Project Manager, Communications
Pointe-à-Callière
Phone: 514-872-2687 / Cell: 514-829-0955
[email protected]