April 2023
French, a Language to Celebrate!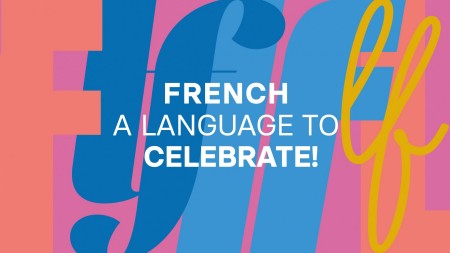 Visual creation: Dominique Boudrias / David Martin
Download images of the exhibition
Please make sure to put the photo credit : © Michel Julien / Pointe-à-Callière
---
Press release
For immediate release
A fun, interactive exhibition produced by Pointe-à-Callière that visitors can discover this spring at Place des Arts.
Montréal, April 6, 2023 – From Friday, April 7 to September 4, 2023, Pointe-à-Callière, Montréal's Archaeology and History Complex, will present French, a Language to Celebrate!, a unique experience of the world of Québec French. This exhibition also marks the 45th anniversary of the famous Charter of the French Language, or Bill 101, which helped French lay down solid roots in modern Québec society.
A festive exhibition to honour the French language
Pointe-à-Callière is presenting a colourful, interactive exhibition on Québec French at Place des Arts. In Québec, many people have fallen in love with French, a language that resonates and continues to be enriched through contact with diverse cultural communities. This exhibition is worth a stop, either on your way to the metro or before or after a show!
"Québec is the only North American society where people go about their daily lives mainly in French. Every day around the world, millions upon millions of people talk, love, search, dream, and live in French. Much more than just a means of communication, French is a tool for social cohesion, cultural creation, belonging, and identity. We are extremely proud of this exhibition."
─ Mr. Jean-François Roberge, Minister of the French Language
"This fun, festive exhibition of Pointe-à-Callière, Montréal's Archaeology and History Complex, will bring people together to discover over 400 years of North American French history. Today, French is the main language spoken in Québec by 6.5 million Francophones, the third most spoken in North America, and the fifth most spoken in the world. As Michel Rivard expresses so well in the song 'Le cœur de ma vie': 'Our language from France has the accents of North America. It breaks the silence with powerful music. It is the language of my heart and the beating heart of my life.' We are pleased to take Montréal on a journey into the heart of the French fact on this side of the world. We have made this exhibition representative and accessible by showcasing all accents on the continent!"
─ Ms. Anne-Élisabeth Thibault, Executive Director, Pointe-à-Callière
"Place des Arts is delighted to host this exhibition by Pointe-à-Callière that celebrates our language in such an incredible way through the works of local artists. Hundreds of thousands of citizens and visitors from all walks of life come to our leading performing arts centre. This interactive experience in our Exhibition Room will allow Francophones, Francophiles, or anyone curious about the topic to learn more about the beauty and richness of our language."
─ Ms. Marie-Josée Desrochers, President and CEO, Place des Arts
Learn about all aspects of French
Go back in time and discover the central role of French in Québec culture. The exhibition will introduce you to the people who have protected French and promoted it through literature, humour, song, theatre and film.
Visitors can discover the exhibition at different stations on a variety of topics: - The history and evolution of "La Francophonie" in North America. - The protection of the French language in Québec and the impact of different laws and events. - Characteristics of the French language in Québec, the variety of accents, diverse expressions, and its rich vocabulary. - The promotion of French in Québec through the arts.
This interactive experience will make you move, play and dance
The different stations in the exhibition include in a quiz hosted by Katherine Levac and Richardson Zéphir to challenge their knowledge of the French language; a karaoke activity, where visitors can dub famous scenes from Québec movies and TV series; and an interactive game where they can play with the words, expressions and multiple sounds of Québec French. At a listening station, they can hear Louise Forestier, Émile Bilodeau or Jean-Philippe Baril-Guérard present the works of local artists and authors who have used their talents to express themselves in French. An art installation will get people moving to the rhythm of songs that have put the French language on the international stage.
An evolving language
French is an inclusive language that has changed through contact with other languages and a plurality of cultural communities. French can only keep going when people come up with new ways to use it at work, in the public space, as a family, at home, in writing, on screens and on stage. It must also be shared with young and old, the Francophones of the world, Quebec-born Francophones, Indigenous people, Anglophones and Allophones.
Information
When: April 7 to September 4, 2023
Where: Place des Arts – Espace culturel Georges-Émile-Lapalme
Hours: 4 to 8 pm, Tuesday to Friday / 12 to 8 pm, Saturdays and Sundays
Price: Free admission
To learn more about the exhibition, visit our website or social media channels, and on the Place des Arts website.
Acknowledgements
The exhibition French, a Language to Celebrate! is produced by Pointe-à-Callière with financial support from the Ministère de la Langue française.
About Pointe-à-Callière, Montréal's Archaeology and History Complex
Inaugurated in 1992, on the city's 350th anniversary, Pointe-à-Callière is today the largest archaeology museum in Canada and the busiest history museum in Montréal. Rising above a concentrated number of historic and archaeological sites of national significance—including the birthplace of Montréal—, the Museum has a mission to preserve its collections and to further knowledge, while showcasing and fostering an appreciation for Montréal's archaeological and historical heritage. This mission is carried out through various activities focused on conservation, research, presentation, education, and inclusion, along with community initiatives benefiting both Montrealers and visitors to the city.
Pointe-à-Callière, proud partner of the City of Montréal.
– 30 –
SOURCE: POINTE-À-CALLIÈRE, MONTRÉAL'S ARCHAEOLOGY AND HISTORY COMPLEX
Media contact: Katia Bouchard, Director of Communications and Marketing
P: 514-872-9124 / [email protected]