May 2022
"FEU — Lueurs et fureurs": AN INVITATION TO DISCOVER A DIFFERENT SIDE OF QUEBEC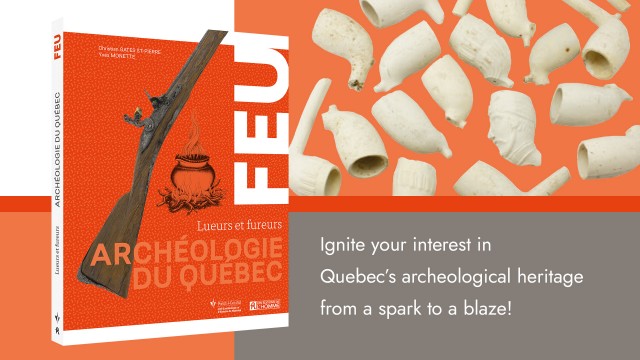 Press release
"Archéologie du Québec": After Air, Eau and Terre, 4th book now released in prestigious anthology
Montréal, May 11, 2022 — Fire is intimately linked to the evolution of humans. Its utility – and paths of destruction – have scattered tangible clues across the land that have let archaeologists write many pages of our history. This unique heritage is revealed in FEU — Lueurs et fureurs, launched today by Pointe-à-Callière, the Montréal Archaeology and History Complex. Produced in partnership with the Ministère de la Culture et des Communications du Québec, this most recent publication in the "Archéologie du Québec" anthology, distributed by Les Éditions de l'Homme, presents a rich portrait of Quebec's archaeological heritage through a synthesis of research on this territory based on the theme of the four elements of air, water, earth, and fire.
A unique chapter in 60 years of archaeological research
"We are proud to add this latest book on the element of fire to the anthology and to present the results of 60 years of archaeological research on Quebec soil in a way that is both accessible and comprehensive," said Anne Élisabeth Thibault, Executive Director of Pointe-à-Callière. "An indispensable yet destructive element, fire has left an indelible mark on Quebec's archaeological heritage. We must preserve its fragile imprints, as studying them deepens our knowledge of the territory in an unparalleled way. The Ministère de la Culture et des Communications has also been an indispensable partner and ally in the success of this major research project."
Edited under the direction of Pointe-à-Callière, this book on fire was written by two authors, Christian Gates St-Pierre, a professor and researcher at Université de Montréal, and Yves Monette, an archaeologist and material culture researcher, with the help of many specialists.
Traces of fire, from incandescence to infernos
Since the time humans tamed fire, it has become an indispensable tool for warmth, light and food. Three thousand years ago, it was used to transform clay into ceramics, an art mastered by Indigenous potters. In turn, the master potters of New France developed recognizable expertise in this craft well before the kilns of the industrial era became widespread in the 19th century. The fire of forges and furnaces has also marked our collective history by transforming ore into metal and forging metal into objects. Fire is also a sacred part of many rituals, such as smudging, the ceremonial use of tobacco, and even funeral cremation.
At the other end of the spectrum, fire also led to the invention of firearms. The destructive aspects of this element are associated with war and the fires that have ravaged and continue to ravage our forests, buildings, and entire neighbourhoods. These tragic episodes have left perceptible traces, and this book presents the clues that archaeologists have used to reconstruct the phenomena of the past. FEU — Lueurs et fureurs reveals decades of research on how both Indigenous peoples and Quebeckers of European descent have mastered this element.
The 200-page book contains many photographs and archival documents. It is available for $34.95 in bookstores and at the Museum shop, or online at Pointe-à-Callière's website. FEU - Lueurs et fureurs: the next chapter in the story of archaeological research in Quebec.
About the "Archéologie du Québec" anthology
The result of a partnership between the Ministère de la Culture et des Communications du Québec and Pointe-à-Callière, the "Archéologie du Québec" anthology includes five books, four of which focus on archaeological research based on the four elements: Air (released in January 2015), Eau (November 2017), Terre (April 2019) and Feu (May 2022). The fifth title published in 2016, Fragments d'humanité – Pièces de collection, showcases artifacts from the provincial collections of Quebec's government and municipalities. The anthology project is directed by Louise Pothier, Curator and Chief Archaeologist at Pointe-à-Callière. Les Éditions de l'Homme, a Quebecor Media company, has produced and distributed the books in the anthology since its initial launch.
About Pointe-à-Callière, Montréal's Archaeology and History Complex
Inaugurated in 1992 for Montréal's 350th anniversary celebrations, Pointe-à-Callière is now the largest archaeological museum in Canada and the most popular history museum in Montréal. Rising above a number of national historic and archaeologic sites, including the birthplace of Montréal, the museum complex's mission is to preserve its collections, enrich knowledge, and showcase and build appreciation for Montréal's archaeological and historical heritage. This mission is fulfilled through conservation, research, and communication activities as well as education, inclusion and community initiatives that both Montrealers and tourists can enjoy.
–30–
Please contact us to request any visuals.
Source:
Nora Charifi
Project Manager, Communications
Pointe-à-Callière
Phone: 514-872-2687 / Cell: 514-829-0955
[email protected]
Press Relations:
Nathalie Roy – [email protected]  514-889-3622
Sophie Marsolais – [email protected] 514-258-0455