18th Century Public Market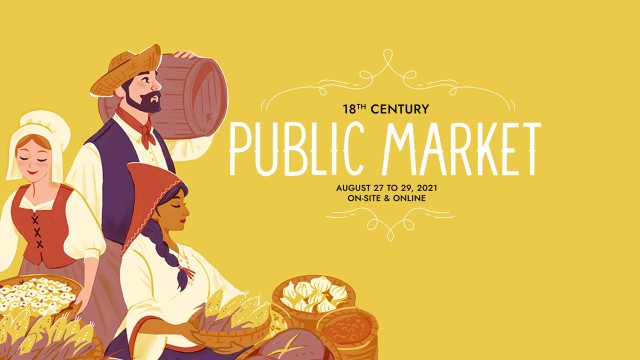 Download the visuals
Please make sure to put the photo credit : © Romain Guilbault / Pointe-à-Callière
---
Press Release
18th Century Public Market - Hybrid edition - Free
August 27, 28 and 29, 2021
Montréal, August 12, 2021 – After a fully virtual edition in 2020, Pointe-à-Callière's 18th Century Public Market is now back with on-site activities! This year, the famous and free annual event is being presented as a hybrid version: on site, the Public Market will take over the street with its artisan booths and outdoor activities to let visitors discover skills from days long past; online, they can journey back to the days of New France with lectures—including one with a beer tasting—, a participatory workshop, and an evening of storytelling for young and old alike. This can't-miss summer event invites the public to go back in time, right in the heart of Old Montréal!
ON-SITE ACTIVITIES
A public market just like in the days of New France
On Saturday, August 28 and Sunday, August 29, 2021 from 11 am to 4 pm, Pointe-à-Callière will recreate the atmosphere of Montréal's first marketplace around the Museum and Place Royale, or the very site it occupied during the French regime. This tradition imported from Europe took place twice a week, and Indigenous and French people met at the market to buy and sell products or exchange news. In three separate areas, the public can stroll through booths and festivities to meet merchants, artisans and street musicians.
In the Garden Area, visitors can learn about herbal medicine and the ancestral plants used in the days of New France, particularly by different Indigenous communities. They can also take part in a demonstration of how to make fishing tools from organic materials, just like they did in the 18th century!
In the Place Royale Area, visitors can learn more about the design of traditional clothing of both Indigenous people and the colonists. Demonstrations of quillwork embroidery, tanning (traditional leather work), feather work and wool spinning are also on the program!
Finally, the secrets of the Indigenous medicine wheel will be revealed in the Pointe Area. After learning about this philosophy and its traditional cultural connections, the public will be invited to make their own medicine wheel.
Caring about helping fight the COVID-19 pandemic, Pointe-à-Callière will implement the required health measures on the Public Market site to make sure the visit will be both enjoyable and safe.
DIGITAL ACTIVITIES
Become virtually immersed in everyday 18th-century life
The Museum has organized a series of virtual sessions on Friday, August 27, Saturday, August 28, and Sunday, August 29, 2021 to help the public better understand the reality of the first Montrealers in New France.
Friday, August 27
12 pm – Lecture: "Aboriginal Languages, Past and Present"
Philippe Charland, an Abenaki language teacher, will go over the different Indigenous languages spoken in the days of New France, while Richard Kistabish, an Indigenous language specialist, will take a contemporary and personal look at this intangible heritage. He will also talk about issues related to the survival of Indigenous languages.
Online event. Sign-up required
7 pm – An Evening of Stories: Four "Once Upon a Times" Come Together
Young and old alike are invited on a journey through the tales and legends from the territory of Old New France! Enjoy this diverse and mixed cultural legacy passed on by four storytellers from cultures found in this territory in the 18th century:
Les Sirènes du St-Laurent and Le Loup Garou, French-Canadian foktales with Francis Désilets.
Les gens transformés en baleines and Les Filles Serpents, W8banaki folktales with Nicole O'Bomsawin.
Les Hommes Poissons, a folktale from the Anishinaabe culture told in Anishinaabe with Véronique Thusky.
Tortue, a Creole folktale (New Orleans) with Joujou Turenne.
This evening of storytelling will be hosted by Sylvain Rivard, Artistic Director.
Online event. Sign-up required
Saturday, August 28, 2021
1:30 pm – Participatory workshop: "Indigenous beadwork"
Workshop participants will learn about the age-old art of Indigenous beadwork by making their own earrings. After getting the required materials, they will follow each step explained and described by Jocelyne Laroche, cultural facilitator of the Kina8at organization, and Pascal O'bomsawin, Elder from the Aln8baïskwa community.
Facebook Live
Sunday, August 29
12 pm – Lecture: "The Canadian horse in New France"
Pearl Duval, author of The Epic Journey of the Canadian Horse: History and Hope from Louis XIV to the Present, will teach us how the Canadian horse contributed to the construction of Ville-Marie and, over time, helped turned this village into a thriving Canadian metropolis. A faithful companion to Canadians for work and play for 350 years, the horse has been a unique witness to our city's history!
Facebook Live
7:00 p.m. – Lecture and tasting: "Beer in New France"
This online tasting session hosted by Stéphane Morin and Francis Désilets will show you the varieties of beer that were produced and consumed in the 18th century and present the brewers who crafted these ales. With a glass in hand, participants will taste a few local artisanal beers for a gustatory journey back in time!
Online event. Sign-up required
Acknowledgements
The 18th Century Public Market is an event organized by Pointe-à-Callière with the financial support of Canadian Heritage, the Ville de Montréal and the Secrétariat des affaires autochtones.
About Pointe-à-Callière, the Montréal Archaeology and History Complex
Pointe-à-Callière, the birthplace of Montréal, is the city's largest history museum. Rising above a number of national historic and archaeologic sites, the Museum's mission is to raise awareness and foster an appreciation of the city's history and to forge bonds with regional, national and international networks.
More information about pacmusee.qc.ca
Facebook
Promotional video
Source:
Nora Charifi
Project Manager, Communications
Pointe-à-Callière
Phone: 514-872-2687 / Cell: 514-829-0955
[email protected]