Cultural activity
September 27th, 2020
Urban Sketchers @ Pointe-à-Callière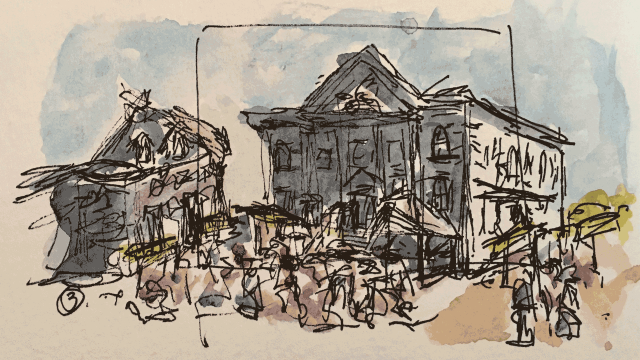 Drawing: Nathalie Zinger - Urban Sketchers
Urban Sketchers @ Pointe-à-Callière
Drawing Session – Images of New France
Sunday, September 27, from 1 pm to 4 pm
Outside Pointe-à-Callière, near Place Royale, Old Montréal
Free, no reservation required
Open to the general public
To kick off the Journées de la Culture, Pointe-à-Callière has invited Montréal artists' group Urban Sketchers Montréal to a very special drawing session in the area around the Museum. Using Pointe-à-Callière and its museum and heritage complex as a backdrop for their work, the artists and general public will set themselves up outside to sketch the architecture of this unique and historical site.
Come be part of the remarkable ambiance at this singular event! Characters in 18th century clothing will be on site, strolling among the crowd to serve as models for the "sketchers" and amateur artists.
Bring paper, pencils, and your drawing material… and join the Urban Sketchers Montréal for an afternoon in good company!
In case of rain, this activity will be postponed to the following Sunday, October 4, from 1 pm to 4 pm.