Cultural activity
May 13th, 2016 — September 11th, 2016
Summer comes to Pointe-à-Callière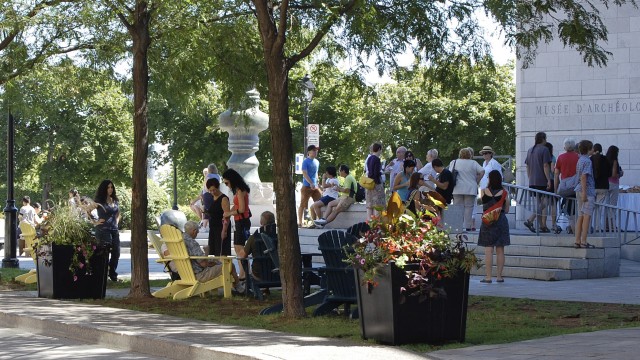 From May 13th to September 11th 2016
Sun, warmth, buds, and birds mean summer is returning to Pointe-à-Callière, Montréal's Archaeology and History Complex, to the great delight of all Montrealers and visitors to the city. Starting in May, Place Royale and the area around the Museum will be transformed into an urban activity zone. Here's a look at the upcoming activities.
Piano and Adirondack Chairs
As in years past, a public piano will be set up near the main entrance to the Museum. All visitors are free to use it on days when the weather is nice, from 10 am to 3 pm. The piano will be put into position on May 10 and, from then on, professionals and budding artists can stop by to tap out a favourite tune or two. The urban area around the Museum will also be decked out with comfortable Adirondack chairs and small tables. Visitors, passers-by, and music lovers are all welcome to come sit and have lunch or simply enjoy the sunshine.
In the footsteps of Chaussegros de Léry
King's engineer Chaussegros de Léry came to New France 300 years ago. The anniversary of his arrival will be celebrated on a day dedicated to him and to the City of Montréal's fortifications. Activities include a study of Montréal maps from the New France era, a look at the outline of the fortifications, children's games, model-building, music, and other family-friendly happenings, all taking place by the Museum and on Place Royale. Sunday, May 22, from 1 pm to 5 pm.
Formula One Days
At the initiative of the Société de développement commercial (SDC), Place Royale and Saint-Paul Street are celebrating summer with a neighbourhood party, bringing some added revelry to the historic district during the Grand Prix. A Cointreau garden-bar will be set up on Place Royale for the event. Cointreau, the SDC, and Pointe-à-Callière will keep the public up to date via social media. Thursday, June 9 to Sunday, June 12, from 12 pm to 11 pm.
Mixed Art Festival
Several activities will be taking place in the area around the Museum and on Place Royale, through a partnership with Sacred Fire Productions and the SDC. The Museum will be hosting activities as part of the 4th Mixed Art Festival: music and dance performances on Place Royale, interspersed with Amerindian drum-making demonstrations under a tent set up by the Museum. Saturday and Sunday, June 18 and 19, from 1 pm to 5 pm.
Pointe-à-Callière's Public Market
A not-to-be-missed event in Old Montréal, Pointe-à-Callière's Public Market is a unique experience, a festive marketplace that retains its agricultural role while offering an array of historical activities and presentations in an atmosphere unique to New France. Discerning gourmets will be delighted to taste authentic 18th-century products and goods: wild fruit jams and jellies, maple products, cheeses, sausages, cider, and even spruce beer. Along with storytellers, musicians, and artisans, the Public Market is host to plenty of other activities involving some one hundred figures enthusiastically re-enacting period scenes. A military regiment and a native encampment will also be part of the festivities. The Public Market also gives children the opportunity to dress up, discover French games from the era, and play soldier by taking part in a parade. Saturday and Sunday, August 27 and 28.