Cultural activity
February 26th, 2022 — March 5th, 2022
SCHOOL BREAK AT POINTE-À-CALLIÈRE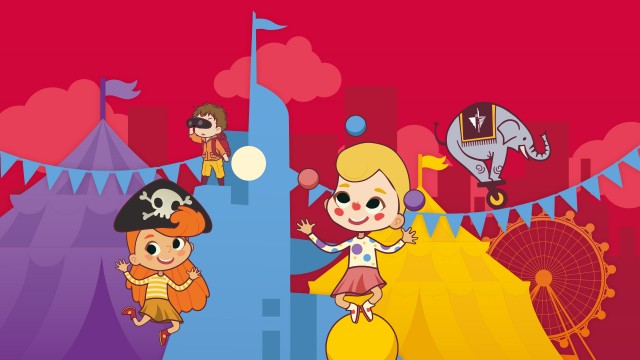 Samuel Tremblay-Boucher / Pointe-à-Callière
February 26 to March 5, 2022
Outdoors, in the area around the Museum
Free
Please note that to enter the activity zone, a vaccine passport is required for individuals of ages 13 and up.
Masking is recommended.
Performance schedule:
11:30 am - Duo Fly and Flow
12:15 pm -Le grand cirque de Ryu
1 pm - Duo Fly and Flow
2 pm - Le grand cirque de Ryu
2:45 pm - Duo Fly and Flow
3:30 pm - Le grand cirque de Ryu
SCHOOL BREAK 2022: ENJOY FREE OUTDOOR ACTIVITIES WITH FAMILY OR FRIENDS
During the school break, from Saturday, February 26 to Saturday, March 5, 2022, the Museum has several outdoor activities in store for guaranteed fun with family or friends—free of charge!
Circus magic takes to the streets!
Ongoing, from 11 am to 4 pm
Meet circus artists… and become one yourself, if only for the day! Coinciding with the It's Circus Time! exhibition, spontaneous performances, music, clowns, and juggling and balancing workshops await you all week long during the school break. In this joyful atmosphere, join your family in exploring the circus arts! Professional artists will be on hand to teach you a few circus skills you can then show off to your friends.
Also, take the opportunity to try out the Desjardins kaleidoscope! Take funny snapshots using the set of mirrors in this big mobile kaleidoscope set up in the street. Fun for the whole family and a great souvenir of your circus-themed day at Pointe-à-Callière!
Last chance to see It's Circus Time!
On until March 6, this fun and colourful exhibition is an invitation to discover the fascinating history of the circus. Not to be missed!
Take an architectural tour of Pointe-à-Callière and Old Montréal
February 26, March 2, 4, and 5
At 1 pm (in French) and 2 pm (in English)
Pointe-à-Callière invites you to explore Old Montréal and your Museum from another angle… on a guided tour of the architecture of both the neighbourhood and the Montréal Archaeology and History Complex. Learn more about the challenges that architects, archaeologists, and museologists faced when building Pointe-à-Callière atop archaeological remains.
Free, upon reservation. Limited places.
A little gift for our neighbours…
Do you live in Old Montréal? Take advantage of a 25% discount on admission to the Museum during the school break, valid from Monday, February 28 to Thursday, March 3 inclusively. Valid identification and proof of address required.
Contribute to the "Mural of Hope"
Pointe-à-Callière has joined forces with Accueil Bonneau, which assists people experiencing homelessness, to offer its users a moment of creativity.
Joined by an artist, Accueil Bonneau users have created a collective work of art: a mural on which they have been invited to express themselves artistically, writing short messages of hope and sharing their vision of the neighbourhood. Come see the artwork, in front of the Museum during the school break, and add your own little message of hope. Once completed, the mural will be given to Accueil Bonneau.