Cultural activity
November 12th, 2023
Lecture | Paul-Gaston L'Anglais — Collection and Collector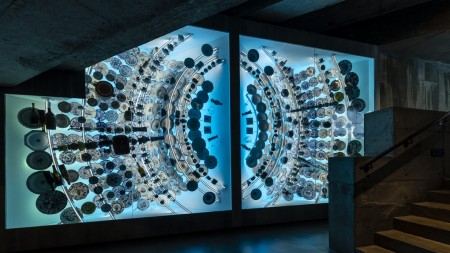 Patrick Desrochers
Sunday, November 12 at 1 pm
Kondiaronk Room
60 seats
$4 for members and $7 for non-members
A journey through time to the colonial era of New France and the Province of Quebec
Presented by archaeologist Paul-Gaston L'Anglais, this lecture will give you an opportunity to see some of the most remarkable earthenware objects from the Paul-Gaston L'Anglais collection. Travel back to the past to explore people's everyday reality during the colonial era of New France and the Province of Quebec. Learn about some of the tableware that made up their material world, their preferences, and the techniques they used to restore damaged items of tableware.
Join us for a look at this extensive collection, some of whose objects are featured in the Matière Cosmique installation, presented as part of the Crossroads Montréal exhibition at Pointe-à-Callière.
Paul-Gaston L'Anglais
Having received his PhD in the archaeology of the colonial era in 1989, Paul-Gaston L'Anglais has compared the ways of life of bourgeois families in Québec City and in Louisbourg during the second quarter of the 18th century. He is also interested in the management of household waste during this same era. He has been involved in various important archaeological campaigns in Québec—the Intendant's Palace, Artillery Park, Dufferin Terrace—and, at the same time, was a lecturer for field archaeology interns at Université Laval.