Members only
January 29th, 2023
Book Club | Inventer un Musée, by Francine Lelièvre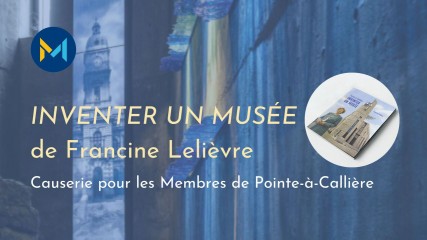 Sunday, January 29
10 am
Museum's Main Building
Hydro Québec Multimedia Room
350 place Royale
In French
Free
Members only event. Limited space.
INVENTER UN MUSÉE, by Francine Lelièvre
As the Founder and then Executive Director of Pointe-à-Callière until 2021, Francine Lelièvre passionately dove head-first into the greatest professional adventure of her life: working with her team to create and develop Pointe-à-Callière. In her book, she shares an account that is sure to captivate anyone who, like her, loves museums, archaeology, and history. Come hear her discuss the book at this event, as she looks back on some of the milestone moments in this exceptional endeavour. A book signing will follow the presentation.
Become a Member!
Becoming a Member means enjoying unlimited access to the Museum's exhibitions, along with a host of other benefits and exclusive contents!
Pssttt... Individual Membership is available at the attractive price of $30 in 2023. Don't miss your chance!