Lecture Series
January 25th, 2020
Lecture - Warps and wefts: About textiles and weavers from the Inca Empire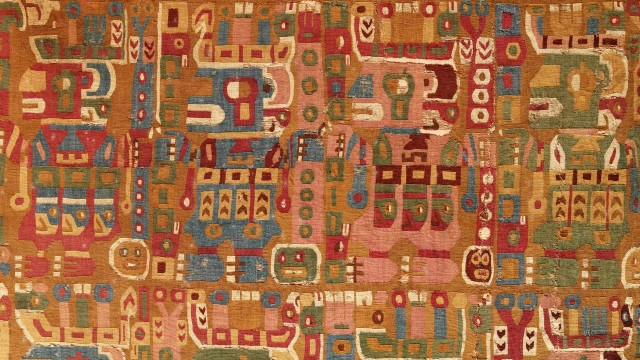 Collection MAS, Antwerpen. Photo. B. Huymans & M. Wuyts
Saturday, January 25, 2020
In English, 1 pm
In French, 3 pm
360° Space, 4th floor, 165 Place D'Youville, Old Montréal
Free
SOLD OUT
When they arrived to the Andean lands, the Spaniards were struck by the beauty and richness of the clothing worn by the Incas. Textile art is very old in the Andes, and the different civilizations that preceded the Incas were masters of this craft.
As part of The Incas, Treasures of Peru exhibition, Pointe-à-Callière is offering a free lecture given by France-Éliane Dumais, a textile conservator at the Centre de conservation du Québec. She will first provide an overview of pre-Columbian textiles and how they were discovered through archaeological investigations while focusing on Peruvian textiles, the oldest of which date back to about 9,000 BCE. You will see how, over time, ancient peoples learned to produce textiles of astonishing technical complexity. She will then discuss the archaeological conditions that preserve these textiles and methods for conserving them now.
The second part of the presentation will be on textiles and how they were made in the Inca Empire as told to us through Spanish, archaeological and ethnographic chronicles. Textiles were of great importance to this Empire, which went so far as to control part of weaving production.
About France-Éliane Dumais
France-Éliane Dumais has a master's in archaeology and a bachelor's in anthropology from Université de Montréal. She has been interested in the study, conservation and restoration of textiles for a number of years. During her career, she has worked on pre-Columbian textiles while taking part in archaeological digs in Peru. She also worked as a collection manager at the former Musée du costume et du textile du Québec. For nearly ten years, she has been a textile restorer at the Centre de conservation du Québec.
Reservations for this lecture will be available soon.