Cultural activity
October 21st, 2017 — October 29th, 2017
Jack O'Lantern: Halloween at Pointe-à-Callière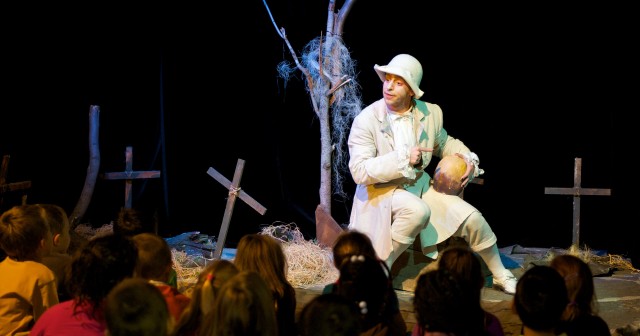 Photo: Michel Julien
Saturdays, October 21 and 28, 2017
Sundays, October 22 and 29, 2017
Starting at 12:30 pm to 4:30 pm
Children will enjoy a whimsical look (with some thrills and chills, naturally) at the cultural origins of Halloween and associated beliefs, as they tour the Museum.
Children who visit the Museum in costume during these two weekends will receive a surprise!
According to Jack O'Lantern, a young Irishman condemned to wander through purgatory with only a lantern carved from a turnip, the remains are haunted by twins Rucht and Friucht, a very superstitious witch and a Druid magician who knows the secret of light ... and courage. Ready? Set? Boo!
Details
Plan for about 45 minutes to complete this tour accompanied by an interpreter-guide.
Places for each group are limited.
English tours for the general public are offered at 12:45 p.m. and 3:00 p.m.
Activity for children ages 4 to 9 and families
Schedule of tours
In English : 12:45 pm and 3 pm
In French : 12:30 pm, 1:00 pm, 1:15 pm, 2:15 pm, 2:30 pm, 2:45 pm, 3:15 pm, 3:30 pm
Free activity, included with admission to the Museum.