Lecture Series
May 14th, 2022
Lecture | Dig into the History of Pointe-à-Callière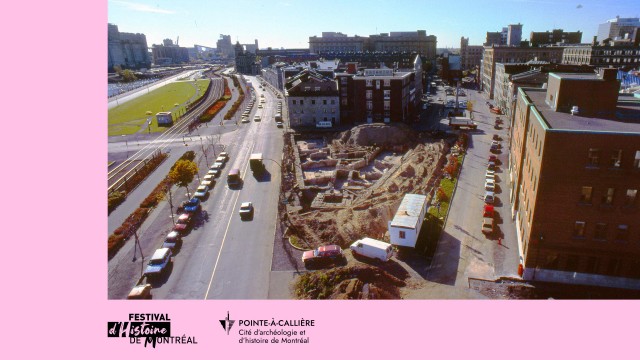 Photo : Marc Laberge - Vidéanthrop inc., © Pointe-à-Callière, Cité d'archéologie et d'histoire de Montréal
Saturday, May 14, at 1 pm
In French
General Admission: $7
Members: $4
at Pointe-à-Callière, COGECO 360° Space
Marines' House – Pavillon Banque Nationale
165, Place D'Youville, Vieux-Montréal
In the 1980s, major archaeological discoveries made in Old Montréal brought to light the very birthplace of the city. Bearing witness to over 1,000 years of occupancy and human activity, the site also held some remarkable architectural remains. An idea soon emerged for the creation of a museum to preserve, interpret, and showcase this site of national significance. The Museum came to be and was inaugurated in 1992, as part of the celebration of Montréal's 350th anniversary. Today, it is the only large-scale archaeology museum in Canada and the largest of Montréal's history museums.
To mark the 30th anniversary of Pointe-à-Callière, Montréal's Archaeology and History Complex, we are taking you back to the Museum's very beginnings. Come hear Pauline Desjardins—who was then Chief Archaeologist at The Old Port of Montréal Corporation—tell the story of one of the earliest digs she led on the site that would eventually become Pointe-à-Callière. An ongoing archaeological adventure that has continued to evolve since 1992!
This lecture is presented as part of the Festival d'histoire de Montréal.
Speaker: Pauline Desjardins, anthropologist