Special event
October 16th, 2021 — October 17th, 2021
Tightrope circus performance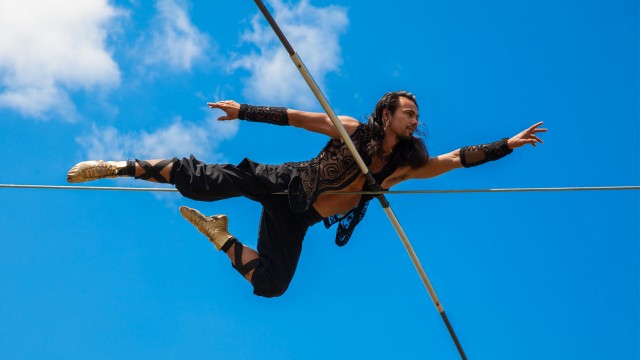 Photo: Philip Fortin
Saturday, October 16, and Sunday, October 17, 2021
1 to 3 p.m.
Place Royale
Free
Notes:
To take part in this activity, the vaccine passport is required for visitors of age 13 and up.
Please arrive 30 minutes early to enter the site.
In the event of inclement weather, the performance may be delayed or cancelled. Follow us on social media to keep up to date.
See a tightrope walker perform incredible feats at Pointe-à-Callière!
Attend an extraordinary performance to mark the opening of the It's Circus Time! exhibition.
Do you like high-wire thrills and chills? On October 16 and 17, 2021, tightrope walker Laurence T-Vu will perform a death-defying spectacle at Pointe-à-Callière. Come see him make a 70-metre crossing—10 metres above the ground—from a tower set up near Maison Christian Faure to the Éperon, the Museum's main building.
Lachine native Laurence T-Vu is the only canadian circus artist to practice this discipline! Watch him balance high in the air and hang by one foot or do the splits as part of a series of breathtaking tricks. Wows, oohs and hoorays are guaranteed!
Reservation required
You will need to present your vaccine passport to enter Place Royale and attend the performance.