Lecture Series
May 13th, 2017
À la recherche du tombeau des pionniers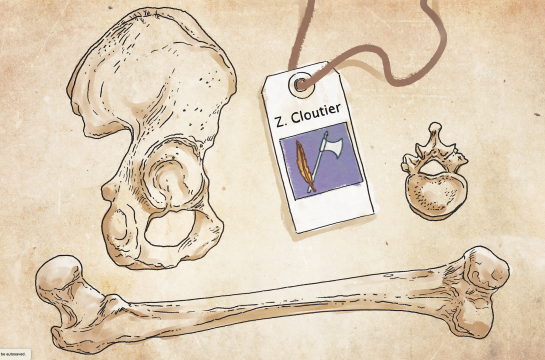 Image: Québec Science
Saturday, May 13, at 3 pm
Free admission
Reservation mandatory
In French only
Azure Room et Pointe-à-Callière
This free lecture, organized through a partnership with Québec Science as part of the 24 heures de science, brings together three Université de Montréal researchers who will be sharing the bill to take us along on their search for Zacharie Cloutier.
It is estimated that eight in ten Quebecers share a common ancestor: Zacharie Cloutier, one of the first pioneers to come to New France. Experts are trying to locate his lost remains—getting their hands on his DNA would lead to advances in biology in general and, above all, in research on the province's genetic diseases.
The lecturers:
Bertrand Dejardins, Professor Emeritus of Demographics, will chart the course of this pioneer who came from his native Normandy with his family in the earliest days of the colony. He will discuss his life and… his death, which concerns us specifically.

Bio-archaeologist Isabelle Ribot will address the topic of digs in ancient Québec cemeteries. She will analyze real cases through which we can paint a portrait of humans based on their bones.

Claudia Moreau, a geneticist at the CHU Ste-Justine research center, will discuss the method used to put a name on these physical remains. She will also explain the interest in finding Zacharie Cloutier's grave.