School visits
Preschool
Elementary Cycle 1
Elementary Cycle 2
5 - 7 year old
Who Is the Real Santa Claus?
60 min. or 90 min. with multimedia show
60 people max.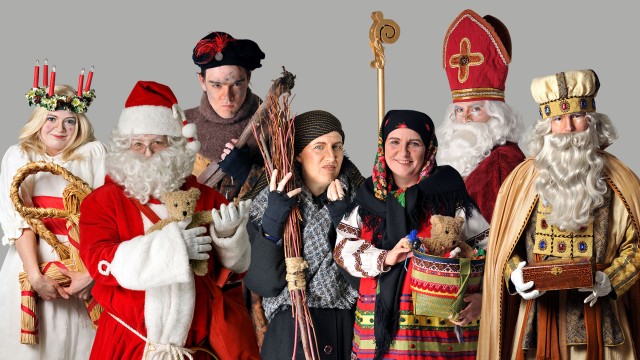 Who is the real Santa Claus? Befana—the old Italian woman searching for "bambino Jesus" who leaves presents for children on the evening before the Epiphany? St. Nicolas—who, as Christmas approaches, has the privilege of being the first to climb down chimneys to leave treats in the shoes of good little children? Saint Lucy—whose name means "light" and who gives out cookies in homes across Sweden? Or "our" very own Santa Claus—with his dashing red suit, who came to North America with the Dutch in the 17th century, flying across the sky in his reindeer-pulled sleigh? Whatever the case may be, meeting these characters in the Museum's archaeological remains is a real Christmas treat!
Come meet Santa Clauses from around the world and learn how the Christmas season is celebrated in their homelands. Experience a delightful world tour of holiday traditions! And get to know your real Santa Claus.
Exceptionally in 2021, we are presenting the Who is the real Santa Claus? activity in a show format. You'll get to hear our four characters tell their stories and share their passion for the holidays in one single location: our new educational space, the Atelier.
Note that the vaccination passport is required for this activity.
Information and booking
Please fill out our online form and we will contact you shortly to complete your reservation.
---
For any assistance:
reservations@pacmusee.qc.ca
514 872-9127
Hours and rate of the activity
November 19 to December 23
Including Monday, December 13
Tuesday to Friday, 10 am to 2:15 pm
Accompanying Adults (1 for 15 students)
Free
Additional Accompanying Adult
$14
3rd or additional adult
$17
Confirmation
You will receive confirmation of your reservation by email. Please sign and return the confirmation to the Museum by email within five (5) days of receiving it.
Cancellation
If you cancel fewer than ten (10) days before the reserved date, you will be charged 30% of the activity fee.
Payment
The total amount is payable ten (10) days after your presentation. Please make your cheque out to Pointe-à-Callière.
Role of accompanying adults
Divide the group into smaller sub-groups according to the number of groups specified on your reservation. The number of groups required corresponds to the number of accompanying adults required during the visit.
Follow the group at all times to maintain discipline and manage particular cases. The mediator or guide will lead the visit. Accompanying adults must stay with and supervise the group during lunch time.
Lunch room
A lunch room is available for groups.
Reservations required.
Free if taking part in two activities during the day.