Virtual Activity
Preschool
Elementary Cycle 1
Elementary Cycle 2
Who Is the Real Santa Claus?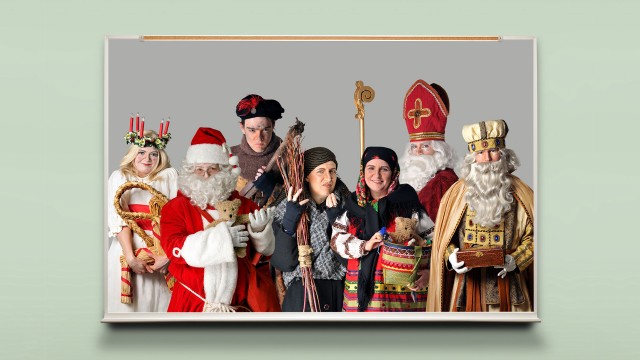 Who is the real Santa Claus? Befana—the old Italian woman searching for "bambino Jesus" who leaves presents for children on the evening before the Epiphany? St. Nicolas—who, as Christmas approaches, has the privilege of being the first to climb down chimneys to leave treats in the shoes of good little children? Saint Lucy—whose name means "light" and who gives out cookies in homes across Sweden? Or "our" very own Santa Claus—with his dashing red suit, who came to North America with the Dutch in the 17th century, flying across the sky in his reindeer-pulled sleigh? Whatever the case may be, meeting these characters in the Museum's archaeological remains is a real Christmas treat!
Come meet Santa Clauses from around the world and learn how the Christmas season is celebrated in their homelands. Experience a delightful world tour of holiday traditions! And get to know your real Santa Claus.
Meet our Christmas characters—virtually! Appearing live, our four Santa Clauses will meet your students and tell their stories, on-screen. Students will also be able to ask questions and speak to the real Santa Claus!
Our interpreter-guides will moderate the activity and make sure everything goes off without a hitch!
How it works
The activity is held via the Microsoft Teams application or on the Zoom platform. When making your reservation, you will be sent a personalized appointment, allowing you to log on at the scheduled date and time, and to contact our guide who will remotely host your group!
Equipment
You will need:
1 computer, connected to the internet (with speakers, microphone, and webcam activated)
1 projector or screen, either an IWB or a monitor.
Information and booking
Please fill out our online form and we will contact you shortly to complete your reservation.
---
For any assistance:
reservations@pacmusee.qc.ca
514 872-9127
Schedule and rates
November 19 to December 23
Including Monday, December 13
Tuesday to Friday, 10 am to 2:15 pm
For the 60-minute tour: $200, tax included, flat rate for one class (maximum of 30 students)
Confirmation
You will receive confirmation of your reservation by email. Please sign and return the confirmation to the Museum by email within five (5) days of receiving it.
Cancellation
If you cancel fewer than ten (10) days before the reserved date, you will be charged 30% of the activity fee.
Payment
The total amount is payable ten (10) days after your presentation. Please make your cheque out to Pointe-à-Callière.