School visits
Secondary Cycle 2
Water: A Resource We can't Live Without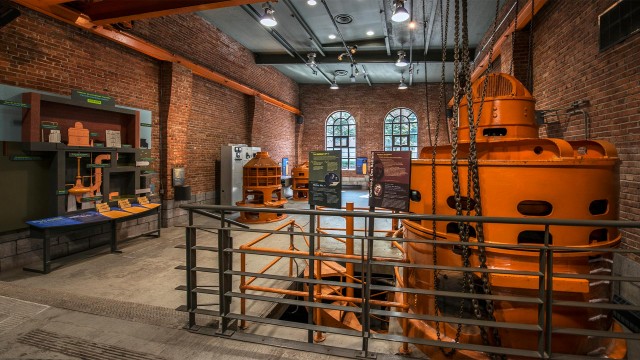 Photo: Caroline Bergeron
Temporarily unavailable
Water is not only life; it also shapes the course of history. Over time, Montrealers have had to think about Montreal's water resources and adopt measures to meet the needs of its growing population. How can we ensure access to drinking water and keep wastewater from harming the health of residents in this booming city? Today, access to drinking water remains a relevant issue; however, we must also think about how to preserve this precious resource. Looking back on our history gives us perspective on the future.
During the visit, you will explore two spaces: the archaeological remains of the Franchère Bridge and the first collector sewer in North America, as well as the Youville Pumping Station, which is part of Montreal's industrial heritage. Through this guided tour, students will understand the impacts of water use and management in Montreal society along with the related technological and environmental issues. After getting a historical primer, the students will engage in a debate and exchange of ideas that will help them ask questions and further reflect on the importance of drinking water in the world.
Historical message: Improved hygiene, wastewater management, and preserving water as a resource.
Technological message: Understanding how a pump works and how drinking water is managed.
Environmental message: Understanding the utility of pumping systems and the importance of preserving our environment, including our drinking water.
Activity-based learning
For this tour, learning is based on discovery, interaction and reflection. The two main activities used to help students grasp concepts are narrative-based theoretical learning (through interactions with a guide-facilitator) and a debate, or the exchange of ideas about science, politics and the environment.
Competencies developed
The activities on this interpreted tour are in line with the aims of the Quebec education programs and help develop the following competencies.
In Québec
Broad Areas of Learning
Health and Well-Being
-Knowledge of the impact of his/her choices on health and well-being
-Awareness of the consequences of collective choices on individual well-being

Environmental Awareness and Consumer Rights and Responsibilities
-Responsible use of goods and services
-Awareness of social, economic and ethical aspects of consumption
-Construction of a healthy environment based on sustainable development

Media Literacy
-Awareness of the place and influence of the different media in his/her daily life and in society
-Understanding of media representations of reality

Citizenship and Community Life
-Participation, cooperation and solidarity
-Adoption of a culture of peace
Languages
Train versatile and competent communicators
-Integrated development of competencies in oral communication
-Increase in the ability to communicate with ease and precision orally
-Transfer of learning both in the classroom and outside school
-Exploration of cultural realities here and elsewhere
Science and Technology
Understand that mathematics, science and technology are important components of general knowledge
-Use of different types of arguments and reasoning
-Organization of rigorous procedures
-Development of strategies and use of creativity in looking for solutions
-Exercise of critical judgment in assessing the impact of mathematics, science and technology on individuals, society and the environment
-Analysis of data found in different situational problems or resulting from different types of observation
-Development of the ability to think and act effectively by using mathematical, scientific and technological knowledge in everyday life
Social Sciences
Understanding social phenomena: part of the process of becoming responsible citizens
-Social literacy
-Methodological tools
-Social integration
-Consciousness of citizenship
-Conceptual tools
Personal Development
Reflect on and raise questions about themselves and their relationships with others and the environment through action and interaction
-Concern for others and the environment
-Development of attitudes for their personal and social lives
-Reflection on their own culture and openness to cultural diversity
-Solving problems pertaining to their personal and social lives
Cross-Curricular Competencies
Uses information
-Gathers information
-Systematizes the information-gathering process
-Puts the information to use

Solves problems
-Analyzes the components of a situational problem
-Tests possible solutions
-Adopts a flexible approach

Exercise critical judgment
-Forms an opinion
-Expresses his/her opinion
-Qualifies his/her opinion

Uses creativity
-Becomes familiar with the elements of a situation
-Explores
-Adopts a flexible approach
Information and booking
Please fill out our online form and we will contact you shortly to complete your reservation.
---
For any assistance:
reservations@pacmusee.qc.ca
514 872-9127
Hours and rates of visits and group activities 2019-2020
September 2020 to April 2021
Tuesday to Friday, 10 am to 5 pm
+ Mondays October 26 and December 14, 2020
May-June 2021
Tuesday to Friday, 9:30 am to 5 pm
+ Mondays June 7, 14 and 21, 2021
Rates in effect as of September 1, 2020
Accompanying Adults (1 for 15 students)
Free
Additional Accompanying Adult
$14
3rd or additional adult
$17
Role of accompanying adults
Divide the group into smaller sub-groups according to the number of groups specified on your reservation. The number of groups required corresponds to the number of accompanying adults required during the visit.
Follow the group at all times to maintain discipline and manage particular cases. The mediator or guide will lead the visit. Accompanying adults must stay with and supervise the group during lunch time.
Lunch room
A lunch room is available for groups.
Reservations required.
Free if taking part in two activities during the day.
Access to the Museum
Consult instructions.
There is free bus parking on de la Commune Street, at the corner of Place Royale.