The Incas, Treasures of Peru
90 min. with multimedia show
96 people max.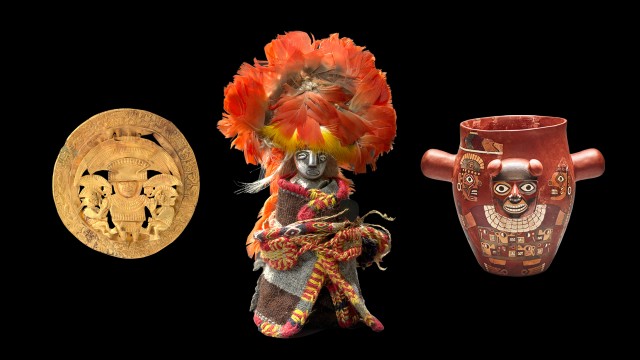 Collection P. & D. Janssen-Arts, L'Agence des Arts et du Patrimoine de la communauté flamande et le MAS, Antwerpen. Photo: Hugo Maertens / Linden-Museum Stuttgart. Photo: D. Drasdow
November 27, 2019—October 4, 2020
Explore the captivating world of the Incas and Andean culture – and mainly that of Peru – from prehistory to the modern era. Trek across the Andean territory to discover the different pre-Inca civilizations and their rites and many skills. Dive into the heart of Inca civilization, where you will discover nearly 300 unique items, such as gold pieces, ornaments, jewelry, vases, funerary masks and ritual objects, as well as clothing and accessories of impressive beauty. Throughout their visit, your students will learn more about the social organization and surprising artistic achievements of the Incas until the fall of their empire. Students will also learn how Inca traditions, craftsmanship and culture have managed to survive. This immersive and moving experience will plunge you into a fascinating universe that reveals the Inca's immense cultural heritage.
Competencies developed
The activities on this interpreted tour are in line with the aims of the Quebec education programs and help develop the following competencies.
Québec
Social Sciences
To understand the organization of a society in its territory;
- To situate the society and its territory in space and time
- To make connections between characteristics of the society and the organization of its territory
- To make connections of continuity with the present
To interpret change in a society and its territory
- To recognize the main changes in the organization of a society and its territory
To be open to the diversity of societies and their territories
- To perceive the main similarities and differences between societies and between territories, including Iroquois society and Inca society circa 1500.
For example, you may learn about the main differences related to the characteristics of the occupied territory, number of inhabitants, chiefs, social structure, habitat, science and technology, as well as beliefs.
Compare the organization of Iroquois society and the territory it occupied circa 1500 and circa 1745 to interpret changes. Compare with the Inca civilization circa 1500 to determine similarities and differences.
As a complement to your visit, we invite you to reserve The St. Lawrence Iroquoians program
Arts Education
To appreciate works of art, traditional artistic objects, media images, personal productions and those of classmates
- To examine a work of art, traditional artistic object or media images for sociocultural references
Social sciences: History and Citizenship Education
- To become aware of the diversity of the social organization of another civilization in the same period of time.
Information and reservations
Hours and rates of visits and group activities 2019-2020
September 2020 to April 2021
Tuesday to Friday, 10 am to 5 pm
+ Mondays October 26 and December 14, 2020
May-June 2021
Tuesday to Friday, 9:30 am to 5 pm
+ Mondays June 7, 14 and 21, 2021
Rates in effect as of September 1, 2020
Accompanying Adults (1 for 15 students)
Free
Additional Accompanying Adult
$14
3rd or additional adult
$17
Role of accompanying adults
Divide the group into smaller sub-groups according to the number of groups specified on your reservation. The number of groups required corresponds to the number of accompanying adults required during the visit.
Follow the group at all times to maintain discipline and manage particular cases. The mediator or guide will lead the visit. Accompanying adults must stay with and supervise the group during lunch time.
Lunch room
A lunch room is available for groups.
Reservations required.
Free if taking part in two activities during the day.
Access to the Museum
Consult instructions.
There is free bus parking on de la Commune Street, at the corner of Place Royale.