Child Care
Day camps
5 - 7 year old
8 - 12 year old
Mysteries of the Nile
**Please note that the activity is sold out until October 15.**
_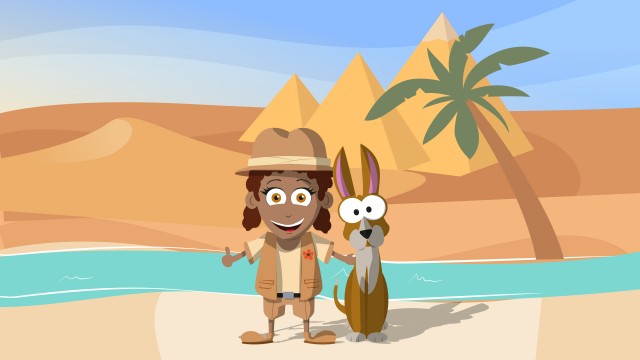 © Roméo Celli
Please note that the activity is sold out until October 15.
Are you ready to explore the mysteries of Egypt and the Nile?
Working in teams, budding Egyptologists will make their way through the exhibition, where they will face a series of challenges to convince the god Hapi—the embodiment of the Nile River—to open the cave that holds the source of the river. Without access to this source, the god Khnum cannot move the current through this body of water that is so important for the Egyptian people's dietary needs and survival. Will you be able to convince Hapi to open his cave and let the waters of the Nile flow?
Immerse yourself in three thousand years of history with the exhibition Egypt. Three Millennia on the Nile. Exploring over 300 objects—most of which are from the Museo Egizio in Turin, Italy—and twenty-one figures and animals straight out of Ancient Egypt, young people will learn about Egyptian history, with a focus on several major themes: the importance of the Nile, daily life and the work of artisans, social structure and administrative power, animal worship, funeral practices, and beliefs relating to death, divinities, and myths.
To meet these challenges, youngsters will make their way through the exhibition, looking for information that will help them succeed on their mission. The challenges are simple and fun games that require observation, reflection, questioning, and creativity. They will encourage participants to explore the exhibition, focus their attention, and discover the key objects on display. An entertaining and educational way to experience the exhibition and learn more about Egypt!
Join the adventure !
What will the kids experience?
During their visit, students will get to see authentic objects used in daily life, monumental sculptures, mummies, sarcophagi, amulets, stelae, papyri, and much more. Through these artefacts and objects, they will:
Situate Ancient Egypt in space and time.
Understand how the Nile shaped Egyptian civilization over a period of 3,000 years.
Meet various Ancient Egyptian figures and explore certain facets of daily life and social organization: family life, work, social structure.
Learn about certain Egyptian beliefs and cultural practices over 3,000 years: art and handicrafts, writing, polytheism, the relationship with animals, and funeral practices.
Information and booking
Please fill out our online form and we will contact you shortly to complete your reservation.
---
For any assistance :
reservations@pacmusee.qc.ca
514 872-9127
Schedule
DAYCARE CENTERS
Starting in June
Tuesday to Friday, 9:30 am to 5 pm
Price per child: $10.00
DAY CAMPS
July 3 to August 18, 2023
Monday to Friday, 9:30 am to 6 pm
Price per child: $10.00
Schedule may varies according to holidays.
Lunch room
A lunch room is available for groups.
Reservations required.
Free if taking part in two activities during the day.