Virtual Activity
Elementary Cycle 3
Montréal: Canada's Metropolis - Primary
50 min.
One class with a maximum of 30 people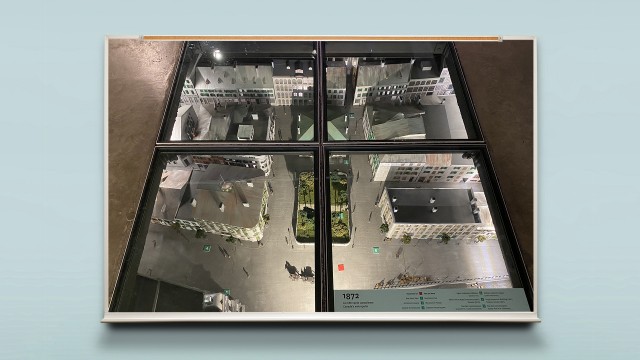 Photo: Pointe-à-Callière
Have Pointe-à-Callière and its guides join you remotely in the classroom! With our virtual guided tours for schools, your class can deepen their knowledge of history and discover remarkable archaeological remains and artifacts as though your students were at the Museum itself!
During this educational activity, discover the history of Montreal in the 19th century, a true golden age for the city! Your students will learn about the excitement and major changes at the time for Montreal's urban planning, population, industrial development, and new sanitary infrastructure. They will get a concrete look at these changes as they tour some of the remains of Old Montreal, such as the Royal Insurance Building, the Old Custom House, and Montreal's first collector sewer (the Memory Collector). This will help them understand Montreal's major role as Canada's metropolis in the 19th century.
Format
With a virtual tour designed specifically for school groups and led by one of our qualified guides, this hybrid educational activity will first take your students on a remote visit of Pointe-à-Callière to learn about 19th-century history through our archaeological sites. They will get the chance to discover the Museum's Building Montréal and Memory Collector exhibitions.
After the virtual tour, our guide will stay online for an interactive activity to help you and your class dive further into the content of the virtual tour. Your group will also get an up-close look at the Youville Pumping Station, where the guide will lead the activities. We will then look back at the key moments of that time and have a Q&A period.
A Museum guide will be there to answer your students' questions throughout this activity, which is based on dialogue, observation and discovery.
How it works
This activity takes place over Microsoft Teams. When you make your reservation, you will receive a personalized link so that you can log on at the scheduled date and time and connect with our guide, who will welcome your group remotely!
Equipment
You will need:
1 computer with an Internet connection (with activated speakers, microphone and webcam)
1 projector or screen (IWB or TV)
Educational competencies
The workshop activities are in line with the goals of the government's educational program and will help students develop specific competencies.
In Québec
Geography, History and Citizenship Education
Society studied: Canadian society around 1820

Read about how a society was organized in its territory.

Define the influence of people or events on social and territorial organization.
Establish strengths and weaknesses in social and territorial organization.

Society studied: Canadian society around 1820 and Quebec society around 1900

Interpret change in a society and in its territory.

Recognize the main changes in the organization of a society and its territory:


Population characteristics and changes.
Economic activities: trade, industry.
Means of transportation: land or sea, depending on the season.
Transportation routes: waterways, roads, railways, canals.

Specify some of the causes and effects of these changes.
Define the influence of people or events on these changes.
Information and booking
Please fill out our online form and we will contact you shortly to complete your reservation.
---
For any assistance:
reservations@pacmusee.qc.ca
514 872-9127
Schedule and rates
Available from February 1st, 2021
Tuesday to Friday, 10 a.m. to 4 p.m.
$200 including taxes (fixed rate for one class with a maximum of 24 people)
$10 per additionnal person (maximum of 30 extra people)
Confirmation
You will receive confirmation of your reservation by email. Please sign and return the confirmation to the Museum by email within five (5) days of receiving it.
Cancellation
If you cancel fewer than ten (10) days before the reserved date, you will be charged 30% of the activity fee.
Payment
The total amount is payable ten (10) days after your presentation. Please make your cheque out to Pointe-à-Callière.