Virtual Activity
Secondary
College
University
Italian Montréal
60 or 90 minutes
One class, with a maximum of 30 people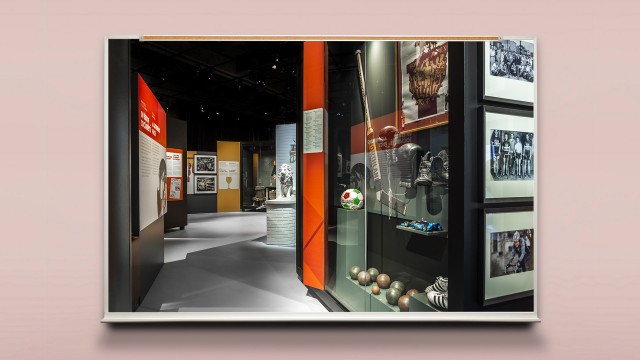 Photo: Myriam Ménard/Pointe-à-Callière
Pointe-à-Callière and its guides are coming to your classroom! With our new virtual guided tour offer for schools, your class can further its knowledge of history while exploring the temporary exhibition Italian Montréal—just like being at the Museum in person!
By taking part in this educational activity, you will explore the rich heritage of Montréal's Italian community, see various precious family heirlooms that have been loaned to the Museum, and learn more about the moving journey of many Italian immigrants who built a new life for themselves in Montréal.
After viewing the virtual tour, our guide will be available to answer your questions and further expand on some of the content covered during the tour. An immersive way to learn about Montréal's Italian community and its members' remarkable contributions to Montréal life.
Format
The hybrid format of this activity first allows you to remotely make your way through Pointe-à-Callière's temporary exhibition Italian Montréal, learning how the city's Italian community has evolved over the past century, as you follow one of our qualified guides on a virtual tour.
If you choose the 90-minute option, our guide will remain online with you following the one-hour virtual tour for an interactive session that will further expand on the content covered. We will also take a look at some highlights in the community's history and answer questions from your studens.
60 minutes — virtual tour only
or
90 min — 60-minute continuous virtual tour and 30-minute live question period with the guide.
How it works
The activity is held via the Microsoft Teams application or on the Zoom platform. When making your reservation, you will be sent a personalized appointment, allowing you to log on at the scheduled date and time, and to contact our guide who will remotely host your group!
Equipment
You will need:
1 computer, connected to the internet (with speakers, microphone, and webcam activated)
1 projector or screen, either an IWB or a monitor.
Educational competencies
The workshop activities are in line with the goals of the government's educational program and will help students develop specific competencies.
In Québec
History of Québec and Canada
1840-1896 – The formation of the Canadian federal system
• Migration – transatlantic immigration
1896-1945 – Nationalisms and the autonomy of Canada
• Mass culture
• Women's struggles
• Union movement
• Catholic church
• Migration flows
• First World War
• Second World War
1945-1980 – The modernization of Québec and the Quiet Revolution
• New arrivals
Information and booking
Please fill out our online form and we will contact you shortly to complete your reservation.
---
For any assistance:
reservations@pacmusee.qc.ca
514 872-9127
Schedule and rates
Available until January 9, 2022
From Tuesday to Friday, 10 am to 4 pm
For the 60-minute tour: $200 tax included, flat rate for a class with a maximum of 30 students
For the 90-minute tour: $250 tax included, flat rate for a class with a maximum of 30 students
Confirmation
You will receive confirmation of your reservation by email. Please sign and return the confirmation to the Museum by email within five (5) days of receiving it.
Cancellation
If you cancel fewer than ten (10) days before the reserved date, you will be charged 30% of the activity fee.
Payment
The total amount is payable ten (10) days after your presentation. Please make your cheque out to Pointe-à-Callière.