School visits
Elementary Cycle 3
Secondary Cycle 1
Here's to Progress — 19th-Century Style!
90 min. with multimedia show
120 people max.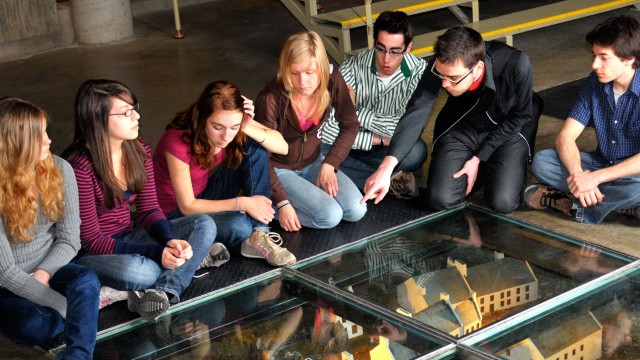 Photo: Marc-Antoine Zoueki
Temporarily unavailable
Montréal in the 19th century was a thriving metropolis enjoying its golden age!
The city was changing rapidly ... there was progress and innovation in the air! Your students will learn about the contribution of British businessmen to Montréal's development in the 19th century, and the surprising and diverse faces of the evolving city. Better yet, they can become the heroes and heroines of the tour, in a fascinating role-playing game.
They can pretend to be British merchant Joseph Frobisher, Scottish journalist Rollo Campbell, innkeeper Sarah Bruner, Mayor Jacques Viger and other timeless Montréal characters. They will have to defend their positions in debates featuring these historic characters. It's bound to be a lively time!
Students will also get to experience Generations MTL, presented in a room equipped with a 270º screen. Archaeological remains come to life, a countdown begins, centuries roll by… Suddenly, an island appears, and then, a city. A captivating and memorable immersive experience!
What will the students do at the Museum?
Meet many different period figures in a role-playing game.
Feel the vibrant atmosphere of Montréal's golden age, marked by rapid progress in many different sectors.
Debate important issues of the day and take a stand after hearing the different pros and cons.
See the underside of progress – diseases, exploitation, etc. – and make links with the present.
Concepts covered during the tour
Living and working conditions, economic situation, industrial development, urban development, demographic shifts, immigration, relations with Great Britain, railway development, public health, infrastructures, epidemics, fortifications, port, business.
Competencies developed
The activities during this program are in line with the aims of the Quebec and Ontario education programs and help develop the following subject-specific competencies:
Quebec
History and Citizenship Education
Industrialization: an economic and social revolution
Examine social phenomena from a historical perspective:

Contemplate the past of social phenomena;
Look at social phenomena in their complexity.
In Ontario
History
The Conquest and the transition to the English regime (1713-1800); conflicts and challenges in Canada (1800-1850):

Use a process of investigation to explore the transition from the French regime to the English regime.
History
The creation of Canada (1850-1890):

Analyze the social, economic, and political challenges facing various groups and communities in Canada between 1850 and 1890.
Canadian and World Studies
Geography, Grade 9
Analyze the principal demographic characteristics and patterns of human settlement in Canada (through the example of Montréal, from the 14th century to the 19th century).
Our experienced interpreter-guides know how to adapt the tour to students' ages and interests. Join them and relive the frenetic pace of development and great plans in 19th-century Montréal!
Information and booking
Please fill out our online form and we will contact you shortly to complete your reservation.
---
For any assistance:
reservations@pacmusee.qc.ca
514 872-9127
Hours and rates of visits and group activities 2019-2020
September 2022 to April 2023
Tuesday to Friday, 9:30 am to 5 pm
May-June 2023
Tuesday to Friday, 9:30 am to 5 pm
+ Mondays June 5, 12 and 19, 2023
Rates in effect as of September 1, 2022
Accompanying Adults (1 for 15 students)
Free
3rd or additional adult
$17
Role of accompanying adults
Divide the group into smaller sub-groups according to the number of groups specified on your reservation. The number of groups required corresponds to the number of accompanying adults required during the visit.
Follow the group at all times to maintain discipline and manage particular cases. The mediator or guide will lead the visit. Accompanying adults must stay with and supervise the group during lunch time.
One-day package
Add a workshop and enjoy a full day at Pointe-à-Callière:
Visit the Museum as well as one of our partners : Guidatour (An activity at the Museum and an ExplorAction walking tour of Old Montreal - 514 844-4021 or 1 800 363-4021) and Croisières AML (An activity at the Museum and a Sailor for a day cruise or guided sightseeing cruise – 1 888 748-4857 ext. 225 or 335).
Lunch room
A lunch room is available for groups.
Reservations required.
Free if taking part in two activities during the day.
Access to the Museum
Consult instructions.
There is free bus parking on de la Commune Street, at the corner of Place Royale.