Exploring the Museum
60 min. or 90 min. with multimedia show
60 people max.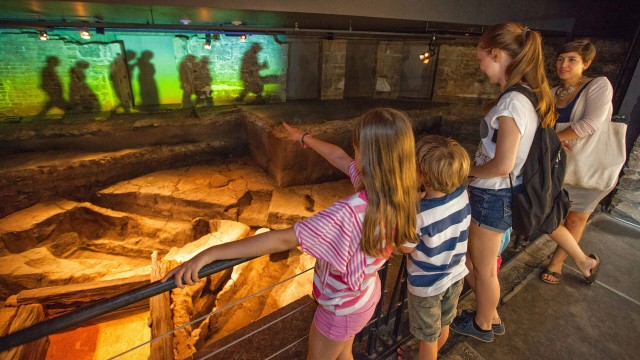 Photo: Studio du Ruisseau ©SMQ
Curious preschoolers and kindergarten students are always welcome at Pointe-à-Callière.
A Museum guide and assistant Arty Fact, an irresistible puppet, will take them on an exciting tour. Here at the Museum, objects, the walls and even the floor have stories to tell! The children will discover some objects unearthed by archaeologists. Ready for adventure? Open your eyes and ears wide!
Students will also get to experience Generations MTL, presented in a room equipped with a 270º screen. Archaeological remains come to life, a countdown begins, centuries roll by… Suddenly, an island appears, and then, a city. A captivating and memorable immersive experience!
What will the students do at the Museum?
Imagine life in days gone by as they examine some easily understood models of the city under their feet.
Explore a unique, fascinating site, the Pointe-à-Callière Museum.
See some actual archaeological artifacts and find out what archaeologists do.
Have fun handling objects from different time periods as they categorize, compare and identify them.
Concepts covered during the workshop
Museum, archaeology, past, present, city, archaeological digs, discoveries, artifacts. The workshop draws on the concepts of time and space, in particular.
Competencies developed
The activities during this workshop are in line with the Quebec Education Program and help develop the following competencies:
Construct their understanding of the world:


Show interest and curiosity concerning history, geography (and archaeology);
Experiment and use tools, materials and strategies in these subject areas;
Make connections with their everyday life.
Information and booking
Please fill out our online form and we will contact you shortly to complete your reservation.
---
For any assistance:
reservations@pacmusee.qc.ca
514 872-9127
Hours and rates of visits and group activities 2019-2020
September 2021 to April 2022
Tuesday to Friday, 10 am to 5 pm
May-June 2022
Tuesday to Friday, 9:30 am to 5 pm
+ Mondays June 6, 13 and 20, 2022
Rates in effect as of September 1, 2021
Accompanying Adults (1 for 15 students)
Free
Additional Accompanying Adult
$14
3rd or additional adult
$17
Role of accompanying adults
Divide the group into smaller sub-groups according to the number of groups specified on your reservation. The number of groups required corresponds to the number of accompanying adults required during the visit.
Follow the group at all times to maintain discipline and manage particular cases. The mediator or guide will lead the visit. Accompanying adults must stay with and supervise the group during lunch time.
Lunch room
A lunch room is available for groups.
Reservations required.
Free if taking part in two activities during the day.
Access to the Museum
Consult instructions.
There is free bus parking on de la Commune Street, at the corner of Place Royale.