Egypt. Three Millennia on the Nile
**Please note that the activity is sold out until October 15.**
_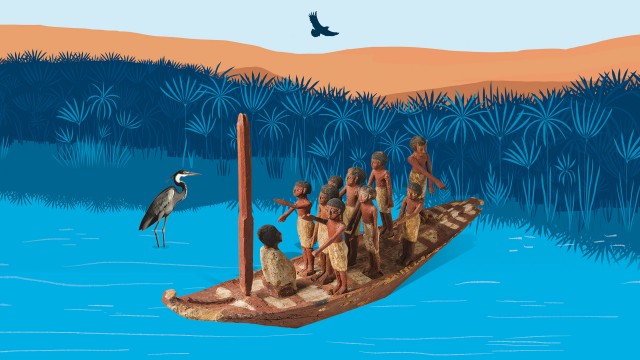 © Museo Egizio, bateau – Illustrations: © Marie-Ève Turgeon
Please note that the exhibition is sold out until October 15.
Come explore hundreds of age-old artefacts in the Egypt. Three Millennia on the Nile exhibition. Immersed in an elegant ambience, you'll meet ancient Egyptians and learn about their rich history. A must-see!
Immerse yourself in three thousand years of history with the exhibition Egypt. Three Millennia on the Nile. Through over 300 objects—most of which are from the Museo Egizio in Turin, Italy—and twenty-one figures and animals straight out of Ancient Egypt, you will learn about Egyptian history, with a focus on several major themes: the importance of the Nile, daily life and the work of artisans, social structure and administrative power, animal worship, funeral practices, and beliefs relating to death, divinities, and myths.
A broad panorama of ancient Egyptian life and history.
What will the students experience?
During the visit, you will get to see authentic objects used in daily life, monumental sculptures, mummies, sarcophagi, amulets, stelae, papyri, and much more.
Through these artefacts and objects, you will:
Situate Ancient Egypt in space and time.
Understand how the Nile shaped Egyptian civilization over a period of 3,000 years.
Meet various Ancient Egyptian figures and explore certain facets of daily life and social organization: family life, work, social structure.
Learn about certain Egyptian beliefs and cultural practices over 3,000 years: art and handicrafts, writing, polytheism, the relationship with animals, and funeral practices.
Competencies developed
The activities on this interpreted tour are in line with the aims of the Quebec education programs and help develop the following competencies.
In Québec
Secondary, Cycle 1
Cross-Curricular Competencies
Exercising critical judgement

Qualify one's opinion: compare one's opinion with those of others, reconsider one's position, evaluate the respective influence of reason and emotion on one's approach, recognize one's biases, repeat the exercise if necessary
Social Sciences: History and Citizenship Education
General Competencies
Examining social phenomena from a historical perspective

Contemplate the past of social phenomena: ask questions about the origin of the social phenomena, find out about the context of the period, show a concern for the beliefs, attitudes, and values of the period
Consider social phenomena in terms of duration: reflect on social phenomena using chronological reference points (chronology, periodization, precedence, posteriority, synchrony), look for elements of continuity and change, take note of traces of past social phenomena in the present
Look at social phenomena in their complexity: become aware of their various aspects, try to see the phenomena in their totality
Content: The Emergence of a Civilization
Become aware of the diversity of the social organization of civilizations in the period before the common era
The contribution of writing to a civilization
The meaning and functions of rules and conventions in society
Cultural reference
Qadesh peace treaty and Ramses II
Information and reservation
Please fill out our online form and we will contact you shortly to complete your reservation.
---
For any assistance:
reservations@pacmusee.qc.ca
514 872-9127
Please note that we cannot guarantee a booking request made less than 4 weeks in advance.
Hours and rates of visits and group activities
Accompanying Adults (1 for 15 students)
Free
Additional Accompanying Adult
$14
3rd or additional adult
$17
Role of accompanying adults
Divide the group into smaller sub-groups according to the number of groups specified on your reservation. The number of groups required corresponds to the number of accompanying adults required during the visit.
Follow the group at all times to maintain discipline and manage particular cases. The mediator or guide will lead the visit. Accompanying adults must stay with and supervise the group during lunch time.
Lunch room
A lunch room is available for groups.
Reservations required.
Free if taking part in two activities during the day.
Access to the Museum
Consult instructions.
There is free bus parking on de la Commune Street, at the corner of Place Royale.