Day camps
Child Care
5 - 7 year old
8 - 12 year old
5 - 12 year old
5 - 12 year old
5 - 7 year old
8 - 12 year old
Are you cut out to be a Viking?
90 minutes with multimedia show
80 people max.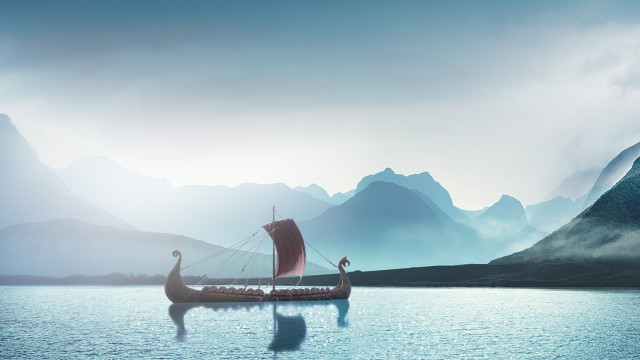 Dominique Boudrias / Pointe-à-Calllière
Do you have what it takes to be a Viking? This is exactly what we're going to find out!
Explore the fascinating history of the Vikings… their mythology, their daily lives, and their expeditions on the seas! Try your hand at challenges that will test your physical and intellectual skills to find out if you've got what it takes to become a Viking! Explorers, adventure awaits you!
Immerse yourself in the real and imaginary world of the Vikings with 4 enthralling tales that will captivate young people's interest and fire their imaginations: the tale of origins, the tale of life, the tale of travel, and the tale of end of days.
They will find out who the Vikings really were, learning about them from various angles: as peasants, artisans, merchants, navigators, explorers, and warriors. This exceptional historical journey presents new perspectives and the most up-to-date scientific knowledge on Viking society, whose era spanned the years 793 to 1066 CE. Come see over 650 objects from the collections of the National Museum of Denmark, showcased against a breathtaking backdrop punctuated with images from the Ubisoft game @Assassin's Creed Valhalla.
Join your youngsters on this captivating voyage of discovery… Come meet the Vikings—still very present in today's popular culture—and learn much more about their daily lives, beliefs, and culture.
Information and booking
Please fill out our online form and we will contact you shortly to complete your reservation.
---
For any assistance :
reservations@pacmusee.qc.ca
514 872-9127
Schedule
DAYCARE CENTERS
Starting in June Tuesday to Friday, 9:30 am to 5 pm
Price per child: $10.00
DAY CAMPS
July and August
Monday to Friday, 9:30 am to 6 pm
Price per child: $10.00
Schedule may varies according to holidays.
Lunch room
A lunch room is available for groups.
Reservations required.
Free if taking part in two activities during the day.